Road of future paved with solar panels
The country's first expressway section paved with solar panels will open to traffic this month in Jinan, Shandong province, according to the project's chief engineer.
Covering 5,870 square meters, the 1,120-meter-long photovoltaic stretch lies in the southern part of the city's belt expressway.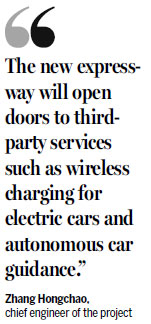 Once completed, the road will be able to use the sun to generate electricity, which will be transmitted into the grid. Its peak power generating capacity is 817.2 kilowatts, over a designed service life of 20 years, said Zhang Hongchao, a professor at Tongji University's College of Transportation Engineering.

Today's Top News
Editor's picks
Most Viewed