A magnet for foreign investments
A good environment, large talent pool and efficient transport system make Shanghai a top business destination
Shanghai has always been at the forefront of economic reform and opening-up in China, and is one of the key bases for attracting foreign investment in the country.
According to statistics from the Shanghai Municipal Commission of Commerce, the city had attracted 90,900 foreign investment projects with a contracted investment value of $414 billion as of the end of October. Shanghai also accounts for one-seventh of all investments in China.
The city is also home to a large number of regional headquarters. As of the end of October, there were 616 multinational companies headquartered in Shanghai. Sixty-seven of them were established to oversee operations in the Asia Pacific region.
Shanghai's competitiveness
An excellent business environment, massive investments in innovation and a large, high quality talent pool are major factors that draw multinational giants to set up shops in Shanghai.
The city's extensive and efficient transportation network is another plus point. According to the authorities, more than 100 million people traveled from Shanghai's two airports last year. In addition, the city's container throughput reached 37 million twenty-foot equivalent units or TEU in 2016, topping the world rankings for the seventh consecutive year.
The Lujiazui Financial Zone in the city is today a vibrant platform for leading financial institutions in the world. By the end of 2016, 1,515 financial institutions were based in Shanghai, contributing to the yearly trading volume of 1,365 trillion yuan ($206.3 trillion).
One of the main reasons behind Shanghai's robust development is its openness to the outside world. The China (Shanghai) Pilot Free Trade Zone, which was established in September 2013, is one of the prime examples.
China's first negative list for foreign investors, which was introduced to manage foreign capital in an internationally-recognized manner, was released in Shanghai.
Over the past few years, Shanghai has also introduced 54 measures to expand the scope of opening-up, and this has in turn attracted more than 2,300 projects to the FTZ, including the first wholly foreign-invested hospital in China. Another example of its commitment to openness is the plan to build a free trade port.
A keen focus on innovation, which is evidenced by the huge amounts of investment fl owing into this sector, is another key reason why foreign companies are entering Shanghai. In 2016, research and development expenditure in Shanghai hit 103 billion yuan, accounting for 3.8 percent of Shanghai's GDP.
An increasing number of foreign companies have built innovation facilities in Shanghai to better serve local clients. As of the end of October, there are 419 foreign-invested R&D centers in Shanghai that have trained more than 40,000 Chinese engineers, according to official statistics.
Officials from the Shanghai Municipal Commission of Commerce said that there is a new trend emerging where many foreign innovation centers are providing industrial solutions in Shanghai for the global market.
Shanghai presently has a large talent pool of about 200,000 R&D professionals. The city is also home to leading educational institutions such as Fudan University and Tongji University. About 100,000 university students graduate in the city every year.
Based on latest government figures, about 31 percent of workers in the city are recognized as highly skilled workers. Furthermore, the 46th WorldSkills Competition, one of the largest vocational skills competitions in the world, will take place in Shanghai in 2021. The event will encourage skilled workers in Shanghai to pay more attention to professional training.
To attract high-caliber professionals, Shanghai has been introducing a slew of measures, such as fast-track VISA approval and permanent residency permits.
Forging a better environment
Shanghai, which aims to be China's strongest magnet for foreign capital, has constantly strived to develop a world-class business environment for global investors.
In October, the Shanghai government released 16 policies to encourage foreign-funded R&D centers to support the city's efforts to be a world-class science and innovation hub. Earlier this year, authorities released updated policies to encourage multinational companies to launch regional headquarters in the city.
It also released a three-year action plan to encourage the manufacturing industry in Shanghai to utilize more foreign capital.
In the coming years, Shanghai will further expand its scope of opening-up and accelerate the building of a new system for an open economy.
More foreign capital will fl ow into the professional service fields as well as industries such as finance, telecommunication, culture, repair and maintenance and shipping service.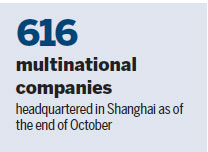 New standards will also be implemented in regional headquarters to serve multinational companies' changing needs. It will also encourage companies to upgrade their existing regional headquarters.
Foreign-funded R&D centers that can play a strategic role in the companies' global innovation networks will enjoy more support from the Shanghai government. The city is also encouraging foreign companies to develop new R&D models that can support the innovation drive by local enterprises.
Shanghai will encourage more foreign R&D centers to participate in government projects.
In the manufacturing sector, new emerging and product service industries will be welcoming foreign capital. More policy support will be given to businesses that promote technological upgrade and invest in commercial land.
Shanghai will take measures to improve the efficiency of trade so companies can more conveniently purchase products and service around the globe at lower costs.
The city is also focused on providing a sound legal system, particularly in the intellectual property rights field, to support technological innovation. This can be seen in the construction of the China (Pudong) Intellectual Property Protection Center, the first of its kind in China, which started in July. The center, which is approved by the State Intellectual Property Office, will provide quick patent checks and react quickly to intellectual property related disputes.
Shanghai will continue to streamline administrative procedures to raise efficiency levels. For instance, the review and approval process for setting up and making significant adjustments to foreign enterprises will soon be replaced by a simple filing process. These efforts will help businesses to lower their operational costs and aid long-term growth.
The city will also be looking for ways to open more fundraising channels for foreign companies. This year, two foreign companies were listed on the Shanghai Stock Exchange while another company managed to raise 2.5 billion yuan by issuing corporate bonds in China.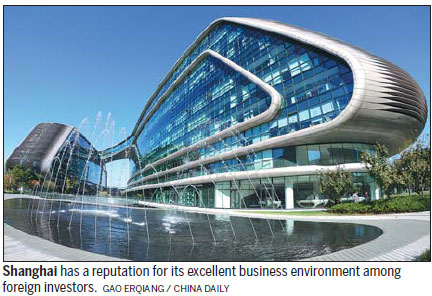 Shanghai has always been at the forefront of economic reform and opening-up in China, and is one of the most ideal investment destinations for foreign investors.Gao Erqiang / China Daily
(China Daily 12/07/2017 page21)
Today's Top News
Editor's picks
Most Viewed