General Electric hoping to play key role in city's growth
Streamlined administration and better service platforms from local governments have provided strong support in capturing the business opportunities that have emerged from China's economic transformation, according to United States-based digital industrial solutions provider, General Electric.
GE, which started conducting business in China back in 1906 and today has more than 20,000 employees across 40 cities in the country, has maintained a strong focus on local market capabilities as part of its China strategy.
It pinpointed localization, partnership and digitization as the three key initiatives to drive its future development by meeting the country's "mega-needs" in power, healthcare and aviation.
"All three of these industrial sectors are key areas that GE is focusing on. We have worked to strengthen our local market capabilities and increase our responsiveness to local needs, so that we can better serve the world's largest infrastructure market," said Rachel Duan, senior vice-president of GE, and president and CEO of GE China.
In light of China's Internet Plus and Made in China 2025 strategies, GE China launched its Digital Foundry in 2016 and GE Aviation Digital Repair Technology Development Center in 2017 - both located at its China headquarters in Shanghai.
"GE is optimistic about the opportunities present in Shanghai, and the launch of these two projects will play a significant role in supporting GE's future development," said Duan.
"The Shanghai government and related departments have provided strong support to GE for these projects, listening to our requirements and helping to solve problems."
She added that GE has taken advantage of Shanghai's efforts in opening-up and building a quality talent pool, noting that the city's premium talent service mechanisms are attractive to global professionals.
"The Shanghai government has been striving to make the business environment in Shanghai more predictable, transparent and stable, which has helped GE to lower operational costs," Duan said, noting that GE has enjoyed greater efficiencies after the China (Shanghai) Pilot Free Trade Zone was launched in 2013.
"The new policies applied by administrative departments such as Shanghai Customs and the Shanghai Administration for Industry& Commerce bring real benefits to GE and our customers," Duan said.
GE also launched an Asia-Pacific distribution center in Shanghai's Waigaoqiao zone in December 2015. According to Duan, this decision was driven largely by the city's ideal geographical location and the favorable policies in place to support advanced logistic and supply chain management systems.
Duan said that GE will remain committed to its operations in Shanghai to support its Chinese customers.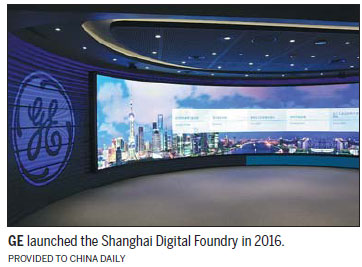 (China Daily 12/07/2017 page21)
Today's Top News
Editor's picks
Most Viewed