Startups get a boost from streamlined processes
Chancheng district in the city of Foshan is actively supporting startup businesses that are opening there with streamlined and simplified administrative procedures and a more attractive recruitment policy, according to a senior local government official.
The district took the initiative in 2014 when it launched a new registration process for businesses that wanted to be set up in the district, through its "one-gate" system.
Using its refined service system, applicants can hand in documents and finish all the registration procedures at one window in the district's services hall. The service utilizes information technology.
After classifying materials handed in by the applicants, the system can send out their information via the internet to the relevant government departments.
No matter how many departments are involved in dealing with a case, the data can be sent out quickly and accurately by the staff working at the window. The district initiated the reform of its industrial and commercial licenses system last October.
It integrated the business license, organization code certificate, tax certificate, social insurance certificate and statistical registration certificate into one application process.
Officials said that by the end of July this year, the district had issued a total of 39,499 integrated licenses for companies, the paperwork necessary to run a business in the district.
Besides the registration reforms, officials said the district is making a big effort to attract highly skilled staff.
It has introduced preferential treatment for their children to join local schools and handed out awards to employees who have made outstanding achievements and contributions.
In addition, the district has opened regional recruitment offices in major Chinese cities including Guangzhou, Wuhan, Xi'an, Changsha, Liuzhou and Jingdezhen - as well as overseas in countries including the United States, Japan and Ireland.
"The main strength of innovation and high-tech companies is the young generation," said Liu Donghao, Party secretary of the Chancheng district.
Liu said society should give younger people enough opportunities to realize their goals.
"Besides technological innovation, we should pay attention to institutional innovation," he added.
To upgrade its industrial structure and pursue greener development, Chancheng is currently moving to attract more high-tech-driven companies, ranging from intelligent manufacturing, information technology, new energy and materials to advanced equipment and the biomedical industry.
Foshan is located in Pearl River Delta, a one-hour drive by highway from Guangzhou, capital of Guangdong province. There is also a subway system connecting the two cities, which also takes around half an hour.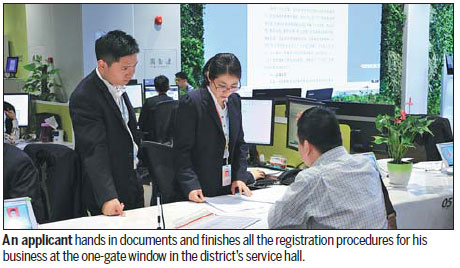 (China Daily 12/07/2017 page20)
Today's Top News
Editor's picks
Most Viewed