Chancheng district embraces high-tech in its bid to cut red tape
Officials say arrival of the age of information poses challenges that must be met
Chancheng district, the central district in Foshan in Guangdong province, has become a model for the successful integration of information technology and data processing within its administration, officials said.
That process has helped the district's public services to reach new levels of transparency and heightened efficiency.
District officials said that progress was the fruit of key initiatives made a few years ago.
In March 2014, Chancheng launched what it called a "one-gate" service - integrating data from the departments of industry and business, housing management, tax, public security, social insurance and civil administration - into one window at the district's services hall.
Big data and modern monitoring technology have been utilized to establish a comprehensive management platform, which provides solutions and courses of action to be taken in response to emergencies ranging from traffic accidents to street brawls.
In October, the district launched its app on mobile devices - named Lingpaotui - literally means zero legwork, which enables its users to access 20 public services at home.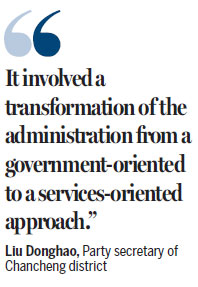 Officials said the arrival of the age of information has brought a lot of challenges that need to be met.
Liu Donghao, Party secretary of Chancheng district, said the district must grasp the opportunities to be found in the new information age and the administration should catch up with the changes in society.
Liu said the one-gate service is a concrete measure Chancheng has undertaken to streamline its government authorities.
"It involves a transformation of the administration from a government-oriented to a services-oriented approach.
"Based on the needs of the people and markets we served, we delegated a part of the government's authority to an information processing system," he said.
"Before the reform, part of the administrative process depended on an individual understanding (of the system)," Liu said. "This, to some extent, made the administrative procedure and system impartial and rational." Liu added that after the change to the new streamlined system, information now could be collected through the service windows and the internet, making it unnecessary for people to run from one department to another. "The second highlight of our system is the utilization of information technology. Big data technology is used to confirm the unique identity of a person," Liu said.
In 2016, Chancheng launched a key project using blockchain technology, trying to build up a digital package for its people.
Blockchain utilizes a secure data structure that enables identifying and tracking transactions digitally and sharing the information across computer networks.
Officials said the Chancheng platform records information collected through the service windows, the mobile app and other channels and makes a profile of an individual's life.
Liu said the resultant, much improved, public services would contribute to an enhanced business environment for companies and business startups.
This, he said, could become a key tool to attract high-profile business leaders to launch their operations in Chancheng district. Next year is expected to see still deeper integration of the new data and information technology with the district's public services.
By then, there will be more services that can be finished at home on individuals' mobile devices.
Officials said companies would see faster and more convenient services in areas including administrative approvals, tax and business licenses.
liyou@chinadaily.com.cn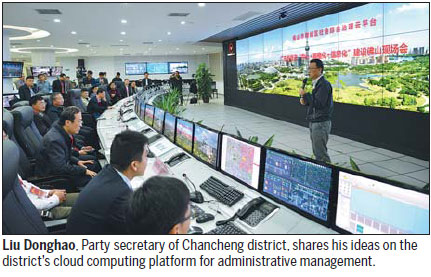 Night view of Chancheng district in Foshan. Photos provided to China Daily
(China Daily 12/07/2017 page20)
Today's Top News
Editor's picks
Most Viewed