Foreign experts welcome to participate in Shanghai's growth
The Zhangjiang entrepreneurship incubation base for high-level overseas experts said it will continuously expand its presence by doubling the number of its overseas liaison offices this year, in a move to help to attract more innovative professionals and projects to Zhangjiang.
The base was established in 2015 under the support of Shanghai municipality and the Shanghai Zhangjiang National Innovation Demonstration Zone.
It works as a platform to provide one-stop services and follow-up services for overseas professionals who intend to come to China and start their own businesses. The base is operated by Shanghai S&I Science and Technology Investment Co, a company under the Jingyuan Group.
It is Zhangjiang's only platform for high-level overseas talent and entrepreneurship project incubation.
"In recent years, we have seen many overseas professionals showing keen interest in seeking growth in China. But they often lack comprehensive understanding of domestic policies, financing channels and current industrial development, which means many of them fail to adapt to the country's environment," said Wang Yu, deputy general manager of Shanghai S&I Science and Technology Investment Co.
"Most startup projects are in the early stages and lack investment. The road to a successful startup, especially in the early stages, is very difficult," Wang said.
To help with this, the incubation base provides information and services pertaining to policy, IP, industry, market and investment to overseas countries before the professionals come to China.
Since 2015, the incubation base has established 18 liaison offices in overseas countries, such as the United States, Germany, Singapore, Belgium, Japan, Israel and Australia.
The base has also established a wide range of partnerships with more than 40 overseas organizations, such as Singpoli Group, the Technology Transfer Office of UCLA, the German Fraunhofer Institute, the Singapore-China Science and Technology Promotion Association and FEC International.
With the help of these overseas liaison offices and cooperative organizations, the base and the industrial parks in Zhangjiang launched several promotional activities to attract overseas professionals and projects to Zhangjiang.
So far, more than 60 overseas projects have been introduced and implemented, with another more than 100 potential projects waiting for further development. These projects cover the fields of intelligent manufacturing, biomedicine, the internet and modern services.
The incubation base has already helped Shanghai Xianghong Drone Navicontrol Techonolgies Co, a company focusing on the research and development of unmanned aerial vehicles, to introduce overseas technology teams.
"Our products have a very high technology barrier, which sets high requirements for the level and working experience of our technical staff. It is not easy to find the right experts to work for us in China, so we turned to the base for help," said Chang Ming, general manager of the company.
"With rich overseas resources and networks, the base soon helped us to find professionals to meet our demand," Chang said. "The base also gives us other services, allowing us to move on smoothly."
In addition to talent-hunting, the base also provides HR and financing, as well as IP services, financing and authorization and transfer of domestic patents, technology and projects.
The incubation base also helped a US research team focusing on specialized medicine to link up with a domestic investment organization. Together, the two parties established Shanghai Xinchen Biomedical Technology Co to carry out cancer screening through specialty medicine methods.
"Because of economic development and the fast pace of the aging process, the biomedicine industry has a very promising future. The incubation base helped us to find the research team and their project.
They provided us with related IP services, allowing us to better promote the medicine's R&D," said Qian Xinrong, deputy general manager of the company.
According to the incubation base, it will increase its efforts to expand Zhangjiang's influence and recognition in the world to attract more professionals and projects from overseas.
"We will regularly collect information and demand that industrial parks and enterprises from Zhangjiang expand the current talent and project pool, so as to find foreign talents and projects more precisely and quickly," Wang Yu said.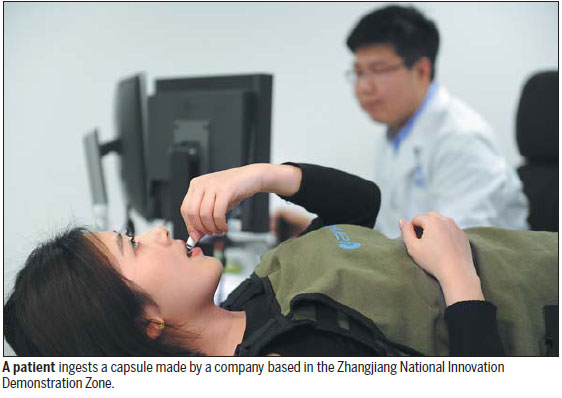 (China Daily 12/07/2017 page17)
Today's Top News
Editor's picks
Most Viewed