Private sector gaining ground
Private enterprises from China are gaining in stature and influence, both at home and abroad, and are increasingly becoming the drivers of the country's market-driven economic transformation.
Nothing reflects this better than the growing presence of private enterprises from China in the Fortune Global 500 list that was released in July. Out of the 115 Chinese companies that figured in the list this year, about 20 percent are privately owned enterprises, a new high for the country.
Prominent among the 10 new entrants from China are e-commerce giant Alibaba Group Holding Ltd and internet behemoth Tencent Holdings Ltd. Alibaba was ranked 462nd on the list with sales revenue of $23.5 billion for fiscal year 2016, while Tencent was placed 478 with a turnover of $22.9 billion.
Other privately owned enterprises from the country that debuted on the list include the world's largest weaving enterprise Hengli Group from Jiangsu province, conglomerate Yango Financial Holding from Fujian province and property developer Country Garden from Guangdong.
Liu Qiao, director of the Guanghua School of Management at Peking University, said that the growing presence of private enterprises from China in the global list of prominent companies represents the rise of a new economic power.
"These companies are changing the foundations of China's economy with enormous momentum. They will become the country's most competitive companies," he said.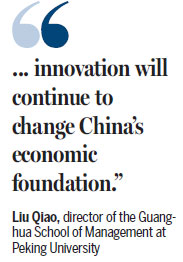 Part of the reason for this, he explains, is because private enterprises enjoy higher returns on investment capital. The rise of such companies indicates that China will soon embrace a new age of economic growth.
"The labor market, industrial structure and consumer demand in China, as well as the domestic and global environment will witness tremendous changes. Entrepreneurship and innovation will continue to change China's economic foundation. In this sense, creating value rather than pursuing a larger scale has become the top priority for most Chinese companies," he said.
According to data from Fortune, China and the United States now lead the global internet service industry given the number of such companies present in the list this year. Out of the six leading global internet companies, three are based in the US, including Amazon, Google's mother company Alphabet and Facebook. The other three come from China - Alibaba, Tencent and online retail giant JD.com.
Much of the credit for the success of Chinese private enterprises, however, stems from the support extended by the central government. By providing various incentives to emerging industries, the central government has allowed them to become "little giants" in certain areas.
A group of 16 central government departments led by Ministry of Industry and Information Technology announced a guideline in late November saying that privately owned enterprises should play a more important role to help carry out the "Made in China 2025" strategy.
With this guideline, privately owned enterprises are encouraged to set up national level laboratories. The government has also welcomed private investment in areas such as industrial control systems, industrial software, computer chips, sensors and cloud systems.
shijing@chinadaily.com.cn
(China Daily 12/07/2017 page14)
Today's Top News
Editor's picks
Most Viewed