Distinctive style reflects long history
Integration of Western and Eastern influences result in stunning, unique culture in capital of Guangdong
With more than 4,000 years of history, Guangzhou, capital of Guangdong province, is home to many design masters who create and innovate cultural treasures, teaching traditional skills to young generations so they can inherit the city's unique culture.
Thanks to its advantageous geographical location and more than 1,000 years of foreign trade, the city has integrated Western and Eastern cultural essences and has formed its own distinctive culture.
Porcelain
Guangcai porcelain - a gold polychrome glazed porcelain - is a representative of Guangzhou's craftwork.
"White porcelain bodies made in Jingdezhen were transported to Guangzhou, painted and fired at the kilns, turning into painted porcelain," explained Tan Guanghui, who has worked in the field for more than 40 years.
Influenced by the Jingdezhen style of painting and the use of enamel on copper, Guangzhou craftsmen developed the first guangcai porcelain during the Emperor Kangxi period in the Qing Dynasty (1644-1911).
The delicate enamel goods were part of China's booming maritime trade in the Qing Dynasty and showcased the charm of Cantonese craftsmanship.
Witnessing the legacy and development over the past 300 years, modern-day guangcai is famous for its brilliant and luxuriant features of rich patterns and bright colors. As an export product, guangcai combines the essence of Eastern and Western cultures, and has become an agent of cultural exchange.
There are only 1,000 craftsmen and 10 guangcai studios in Guangzhou, Tan said. He and his wife Du Li opened their own studio in 2000.
Du said that at first, they went through a tough time as they couldn't afford the raw materials.
In 2008, the skill of guangcai was listed as a national intangible cultural heritage item, as one of the best representatives of Guangdong's pottery and porcelain art.
Du said after that, they saw growing support from the nation, as the government endeavored to sustain this unique technique.
To ensure the inheritance of this traditional craftwork, Tan has cooperated with many universities and institutions. His studio is an internship base for the South China University of Technology, various Guangzhou-based art institutes and technical colleges.
Students join the studio during their summer or winter vacations to learn guangcai techniques with Tan.
The studio has cooperated with the Guangzhou government to select 20 students from impoverished areas of Guizhou province in Southwest China. The students will move to Guangzhou next June and start a three-year training course with Tan.
He said that some of his students have opened their own studios worldwide, from Malaysia to Jingdezhen, which makes him incredibly proud.
They plan to expand their global market and export guangcai to Spain, Egypt, Canada and other countries.
Tan received a special government allowance from the State Council in 2014. "Although the amount is not much, it shows the government's care and support for traditional culture, which gives me a lot of confidence," Tan said.
He crafted more than 1,000 gifts for guests attending the 2017 Fortune Global Forum. He said that it was a good way to promote guangcai, using such a leading global platform.
Architecture
In addition to Guangzhou craftworks, there are many Guangzhou-style buildings in the city.
He Jingtang, 79-year-old, is a renowned architect and professor at the South China University of Technology's school of architecture. He still works on the front line of architectural design and planning.
He has designed many impressive buildings and inherited the tradition of the Lingnan region's academic spirit of pragmatic innovation.
His representative works include the China pavilion at 2010 Shanghai World Expo, the West Tower of Zhujiang New Town, the wrestling arena for the Beijing 2008 Olympics Games, Tianjin Museum and Qian Xuesen Library in Shanghai.
In 2016, He set up his studio in the South China University of Technology. It also functions as a modern architecture design and research center, and a popular science base for the architectural society of China.
Commenting on the city's many impressive buildings, he said: "With the deepening of reform and opening-up, we are gradually exploring our own specific approaches to architectural design, which are open and innovative. I insist on a development style that combines design, teaching and research."
Numerous architectural practices have enabled He to evolve his own architectural theory, which he calls Two Concepts and Three Features. These focus on the concepts of holism and sustainability, as well as the harmonious integration of regional, cultural and contemporary features.
His studio has not only achieved many accomplishments in scientific research and design, but also a large number of innovative experts in architecture.
The studio has more than 50 doctoral students and 100 postgraduates. Some of them have won architectural awards and become influential in the Chinese architecture industry.
caoyingying@chinadaily.com.cn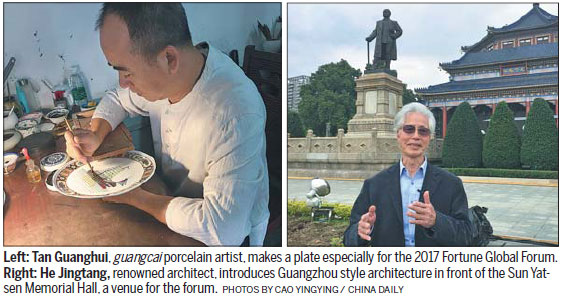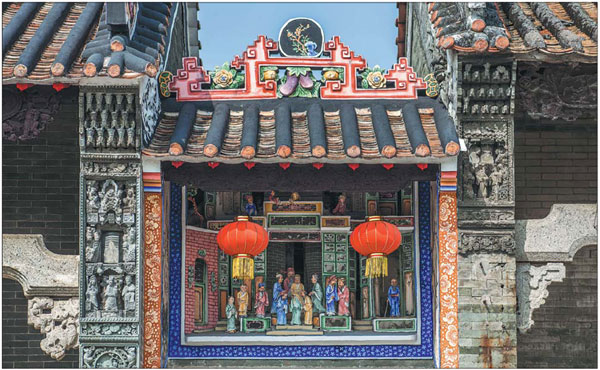 Langtou ancient village in Guangzhou's Huadu district has more than 200 houses in the Qing Dynasty (1644-1911) architectural style, part of the city's unique traditional culture.Provided to China Daily
(China Daily 12/07/2017 page16)
Today's Top News
Editor's picks
Most Viewed