IN BRIEF (Page 10)
Statistical work training held
The 2017 Torch Statistical Work Training Course was held in the Weifang Hi-tech Industrial Development Zone on Nov 16. The course is designed to support the China Torch Program, which promotes innovation. It attracted more than 600 people from high-tech industry administration departments and national high-tech economic zones from around China. The development zone has long been committed to promoting innovation-driven strategies. The zone ranked No 22 among 147 domestic economic development zones nationwide in terms of its comprehensive development this year.
Emergency system launched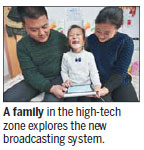 The Weifang Hi-tech Industrial Development Zone launched an emergency broadcasting system and an online news distribution platform, www.wegood.wang, on Nov 21. The emergency broadcasting system was independently developed by the zone and is one of its first 16 community projects. It will help local residents to receive information from the government. The website and the mobile app will become a new information distribution channel for the zone.
Innovation hubs set up worldwide
Weichai Power launched a new technology innovation center in the Germany Aschaf enburg on Nov 19. It also signed a contract with AVL, a leading powertrain developer in Austria, to build an innovation center. The construction marked a new step in Weichai Power's global innovation system. The system is designed to attract the most advanced technologies and top tech personnel, and to explore a way to better connect market and research centers. It will help Weichai to make breakthroughs in developing traditional engines and components. It will also support the development of Weichai's new-energy technology, smart driving and internet of things. The company said it will continue to build technological innovation centers and new-energy innovation centers in countries such as the United States and Japan.
(China Daily 12/07/2017 page10)
Today's Top News
Editor's picks
Most Viewed