Firm wants to launch new space centers
China Great Wall Industry Corp, the country's largest space contractor on the international market, is considering using existing overseas launch facilities or building new ones in foreign territories to lift Chinese carrier rockets, executives said.
Yin Liming, the company's president, said on the sidelines of the fifth China Space Forum held by the company in Beijing on Tuesday that working with foreign nations to use or construct launchpads or launch centers will strengthen China's international space cooperation.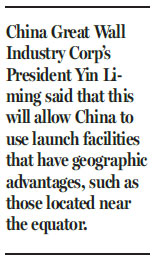 He said that this will allow China to use launch facilities that have geographic advantages such as those located near the equator.

Today's Top News
Editor's picks
Most Viewed