GE aims to foster emerging Biopharma market in Guangzhou
The story is provided from GE to China Daily
This week, business leaders from around the world are gathering in China to discuss key issues and opportunities facing multinational companies at the Fortune Global Forum in Guangzhou.
Discussing the "innovation revolution" and emerging technologies that are a central focus of this year's forum, Rachel Duan, president and CEO of GE China, shared how General Electric has been innovating within the biopharmaceutical space - working together with the forum's host city of Guangzhou, which aspires to be China's leader in information, artificial intelligence and bio-tech industries.

In June, GE Healthcare and the Guangzhou Development District broke ground on the GE Bio-Campus, located in Guangzhou Knowledge City.
The Campus, which covers 350,000 square meters and has investment totaling 800 million yuan ($123.4 million), aims to support the large-scale manufacturing of biopharmaceuticals, leveraging GE's expertise and technologies.
"The biopharmaceutical industry has become a strategic growth sector for GE and a key development area for Guangzhou," said Rachel Duan, who has been leading GE's fast-growing healthcare business in China for the past five years.
"With the GE Bio-Campus, GE and the Guangzhou government will be working together to build a new and thriving cluster for biopharma innovations in China."
Biopharmaceuticals, or biologics, are the world's fastest-growing class of medicines: of the top 10 therapeutics on the market today, eight are biopharmaceuticals, statistics from medical health research institute Evaluate Pharma showed.
Unlike synthetic drugs, they are the product of live organisms, and are targeting everything from diabetes and cancer to immune disorders, such as arthritis, GE said.
In China, biologics account for only around 14 percent of the medicines prescribed, compared to 32 percent in the US even though China's population represents 22 percent of the worldwide cancer incidence, which is the leading cause of death in the country, according to Evaluate Pharma and a report from BBC in 2014.
GE has identified this as a huge gap between demand and supply.
"GE saw an unmet need for faster, more turnkey and more flexible manufacturing capacity in markets all over the world, especially in response to the production shortage in growth economies," Duan said.
"Ultimately, we are building not just a campus, but an ecosystem to drive the whole biopharma value chain - providing total solutions for biopharma manufacturers starting from research and development and clinical trials through to pilot testing and large-scale manufacturing."
According to Duan, the GE Bio-Campus will help foster this ecosystem by design - through cutting edge-technological solutions, and innovative business models.
On the technology side, the Bio-Campus is planned to consist of several "KUBio" biopharma factories - a GE innovation that is essentially a factory-in-a-box - which will serve to manufacture biologics.
Meanwhile, a Fast Trak Bridge facility is the physical manifestation of a business model that gives customers access to industry expertise to accelerate the launch and manufacture of biologics.
The GE Fast Trak Bridge facility will be the first GE-owned component of the Bio-Campus, and is anticipated to be completed by 2019.
Bridge manufacturing services will encompass process and analytical development, process scale-up, and manufacture of drug substances for use in toxicology studies or Phase I and II clinical testing.
"GE's Fast Trak Centers are specifically designed to help biopharmaceutical manufacturers to increase their process productivity, reduce costs, and enable them to bring their product to market faster. They are equipped with the latest technologies for bioprocessing in an environment and at a scale that closely replicates the real-life industrial setting," Duan said.
Following the Fast Trak Bridge, GE will introduce several KUBio factories. These prefabricated facilities - based on single-use technologies designed for monoclonal antibody production - are constructed, assembled, fully fitted, and ready to run in 18 months.
GE created the KUBio concept to pave an easier route for biopharma companies - both large and small - to enter and grow within the biologic market, and help to bring affordable drugs to markets that have not previously had access to them.
As traditional factory setups typically take up to three years to design and build, GE designed KUBio to help reduce build costs by up to 50 percent compared to equivalent traditional facilities.
Today, two KUBios have been installed in China - for JHL in Wuhan and for Pfizer in Hangzhou - while the third, for BeiGene at the Guangzhou campus, is expected to be operational in 2019.
Beyond providing services and technologies for partner pharmaceutical companies at the Bio-Campus, GE hopes that the relationship with the Guangzhou government and biopharmaceutical partners will foster a more productive ecosystem for the entire biologics market in China and beyond.
"The Bio-Campus project is a great demonstration of the innovative Private-Public-Partnership model - capturing a huge market need while upgrading Guangzhou's industries," Duan said.
"And considering that most biopharmaceutical companies have a global customer base, it is anticipated that the biopharmaceuticals manufactured at the campus will serve patients throughout Asia."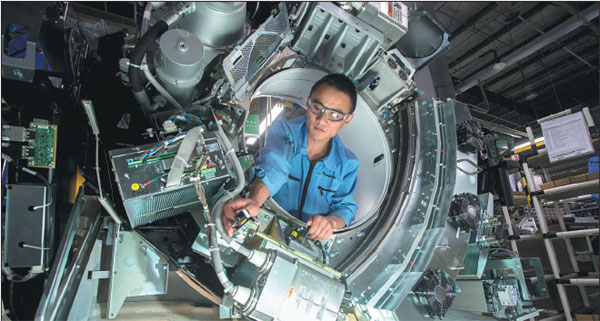 A technician performs an inspection at the GE Healthcare Beijing plant.Photos Provided To China Daily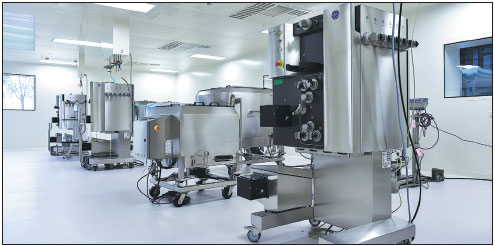 GE KUBio facilities help to manufacture biologics at the JHL factory in Wuhan, capital of Central China's Hubei province.
(China Daily 12/06/2017 page5)
Today's Top News
Editor's picks
Most Viewed