HNA Holding Group seeks greater B&R role
HNA Holding Group is seeking to work with more top global duty-free shop operators to promote Hainan province as a global tourism destination and a shopping paradise among countries involved in the Belt and Road Initiative.
Huang Qiu, COO of HNA Holding Group, said the group will take full advantage of the opportunities brought about by the Belt and Road Initiative and its diversified industrial resources. He said the company intends to incubate its core products and services to help realize the vision of creating a beautiful and happy life for the people.
A subsidiary of Fortune 500 company HNA Group, the company owns a 31,000 square-meter duty-free shop at Haikou Meilan International Airport, which markets 300 global brands of duty-free commodities under 38 categories. The company also has a number of commercial complexes in Hainan province, the country's youngest province, which is set to celebrate its 30th anniversary next April.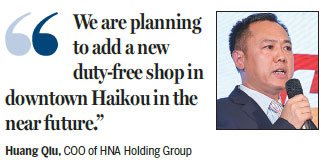 Pilot duty-free program
Hainan became China's first mainland province to run the pilot offshore duty-free program in April 2011. There are currently four regions in the world that run such a program. In Hainan, the business has been developing with a growth rate of 40 percent annually, becoming a major attraction for people traveling to the island, which has set itself the target to attract 80 million tourists a year by 2020.
Hainan now has two duty free centers: the Haitang Bay International Shopping Complex in Sanya, at the southern tip of the island, and the duty-free shop at Haikou Meilan International Airport. The two centers have attracted 8 million tourists and reported 25 billion yuan ($3.79 billion) in total sales volume since the policy was first introduced in 2011.
"Two shops are not enough. We are planning to add a new duty-free shop in downtown Haikou in the near future," Huang said. He added that, given the adjustments to the country's duty-free policies, there will be greater capacity for the duty-free business to expand in Hainan.
As a wholly owned subsidiary of HNA Group, the company is growing into a diversified investment and financing platform for its parent company, which now ranks No 170 among the Fortune Global 500, with an annual business volume of $53 billion.
Infrastructure projects
The company manages the construction of the expansion projects at Haikou and Sanya airports. The second phase of Haikou airport is expected to finish by 2019, increasing its handling capacity to 35 million passengers annually.
Huang said the company runs five key divisions: infrastructure, online to offline marketplace, finance, education and healthcare industry investment, and international investment.
It is accelerating its globalization process and seeking a greater role in the Belt and Road Initiative through infrastructure projects, highlighting the company's public-private partnership model.
"Our cooperation projects with countries involved in the Belt and Road Initiative now focus on Southeast Asia. Negotiations are under way with partners from Thailand and Singapore, and agreements are likely to be reached soon," Huang added.
The Belt and Road Initiative is a significant development effort launched by the Chinese government in 2013, with the intention of promoting economic cooperation among countries along the trade routes. It also intends to further market integration and create a regional economic cooperation framework of benefit to all.
The company holds many properties overseas, including Thomson Reuters' London office, Manhattan's 245 Park Avenue in New York, and 33 South Sixth in City Center, Minneapolis, according to Huang. It has five listed companies in Beijing, Shanghai, Guangzhou, Shenzhen, Hainan, Hong Kong, New York and London.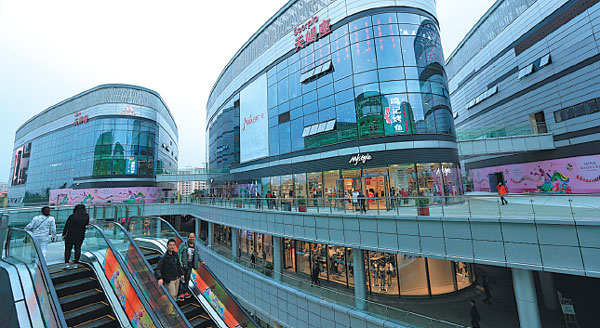 MOVA Plaza in Haikou, capital of southern Hainan province, a project built and operated by HNA Holding Group.Provided To China Daily
(China Daily 11/30/2017 page12)
Today's Top News
Editor's picks
Most Viewed