Great store is set on first advanced battery pack
The all-new BMW 530Le iPerformance, which made its world debut at the ongoing Auto Guangzhou 2017, carries the first BMW Brilliance high-voltage battery pack with the highest energy density among all the BMW-branded plug-in hybrid electric vehicles.
The locally developed and produced power battery packs have had their energy density increased by 70 percent, while the weight has been reduced by 100 kilograms.
A new double-module design has battery energy reaching 13 kilowatts hours and total weight of only 117.2 kg. The battery has four double-modules, each containing 24 cells that achieve an energy density of 111 Wh/kg. The overall system output is 185 kW and the combined peak torque is 420 Newton meters.
The full electric driving range is 61 km and the combined range reaches 650 km, with fuel consumption as low as 1.9-liter/100km.
The cooling system sits neatly between single modules, using the car's refrigerant cycle to directly cool the battery, while accurate temperature control ensures stable driving performance.
Power output can instantaneously reach 93 kW, and maintains an output of 46 kW. A 15 percent redundant state of charge design ensures the eBoost function is always working. BMW says the battery pack can still provide stable power output in China's most extreme testing environments at - at 30 C, as a testimony to its supreme reliability. For a perfect balance between e-range, performance and safety, the battery packs meet 1,502 technical criteria. The products will also pass repeated firing, watering, collision and leakage tests.
At BMW Brilliance, the battery packs are produced in two stages.
In the first, highly-automated process, standard lithium-ion cells are processed and combined into a larger unit, known as the battery module.
In the second stage, battery modules are mounted together with connections, control units and cooling units in an aluminum housing to form a complete high-voltage battery pack.
This production process has two decisive advantages: first, standardized battery modules mean that properties and quality standards are uniform, forming the basis for a wide variety of electric drive variants.
Second, the aluminum housing size and shape, as well as the number of battery modules used, can be perfectly adapted and tailor-made for each vehicle.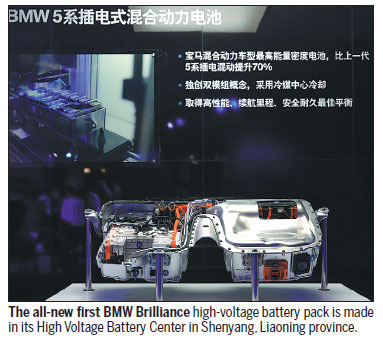 (China Daily 11/21/2017 page15)
Today's Top News
Editor's picks
Most Viewed