A new era for human rights across the world
In the report he delivered at the opening of the 19th National Congress of the Communist Party of China on Oct 18, General Secretary Xi Jinping said that as a result of the transformative changes that have been made during the past five years, the country is better prepared than ever before to take on the challenges in the new era.
One of the many fields in which China has made significant progress over the past five years is human rights. This is exemplified by the book published on the eve of the congress titled China's New Achievements in Human Rights (2012-2017). One of the achievements the book highlights is the strengthening of the rule of law since the Fourth Plenary Session of the 18th CPC Central Committee in 2014. An ambitious agenda was adopted at this plenum, with special emphasis on judicial reform, and it has since been implemented with speed and conviction. Like anywhere else, there are miscarriages of justice in China, but many measures are now in place to try and prevent them.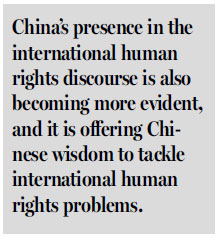 Another significant human rights achievement that has been made over the past five years has been the lifting of 14 million people out of poverty each year with the help of narrowly targeted programs. Furthermore, during the same period the average life expectancy in China has risen by 18 months and is now close to 76.5 years.

Today's Top News
Editor's picks
Most Viewed