Trump, Duterte rebuilding ties
But challenges remain in trade, climate and territorial issues
WASHINGTON - After a period of animosity between Washington and Manila, the leaders of the United States and the Philippines improved ties on Sunday and Monday. But experts said challenges remain.
The meeting "went well, so I would expect them to have a positive relationship," said Brookings Institution Senior Fellow Darrell West, referring to US President Donald Trump's trip to the Philippines Sunday and Monday, at the tail end of his much-publicized Asia trip.
"The two are tough men who take a strong stance against opponents so they have a similar leadership style," West said of Trump and Philippines President Rodrigo Duterte.
The meetings come around a year after Duterte had a falling out with former US president Barack Obama, after Duterte lobbed a personal insult at the US president, causing Obama to cancel their meeting.
Trump said on Monday he had a "great relationship" with Duterte, making little mention of Duterte's war on drugs and alleged extrajudicial killings of drug addicts and dealers, for which Western leaders and rights activists have blasted the Philippines' president.
"We had a great relationship," Trump said, trumpeting Duterte's hosting of the meetings, including a gala dinner on Sunday and a number of Philippine cultural performances on Monday.
Echoing those thoughts, Duterte Spokesman Harry Roque said: "Trump specifically said he has always been a friend of the Duterte administration, unlike the previous administrations of the United States. He stressed that he can be counted on as a friend of the Duterte administration."
West said the two countries "have a long history that should enable the leaders to work well together. Duterte did not like Obama so the shared antipathy will create a tie that binds between the leaders."
But at the same time, some analysts said there remain a number of issues that need to be resolved between the United States and the Philippines.
"I think there will be broader issues that remain to be resolved between the US and the Philippines, beyond the meeting between Presidents Trump and Duterte and their shared dislike of president Obama," said Dan Mahaffee, senior vice-president and director of policy at the Center for the Study of Congress and the Presidency.
Even with Trump's own stances on law and order, the alleged human rights violations in the Philippines and concerns about Manila's approach to Islamic State require continued US attention and assistance, experts said.
Personal relationship
There is some disagreements among analysts regarding whether personal relationship between leaders matter, or whether that's all optics and what really matters is each nation's goals.
Supporters of the latter argument contend that what matters most are national interests, and that leader's personal relationships are inconsequential.
West said interpersonal relations are important in foreign policy.
"If two individuals feel a personal chemistry, that can help them work together and resolve important issues," West said.
Mahaffee said while the optics and pomp and circumstance play into Trump's perceptions of the visit, the progress on a wide range of areas from trade, territorial issues, climate and other agreements remain the real challenge for these meetings.
Trump's Philippines visit comes at the tail end of his Asia tour, which also includes Japan, the Republic of Korea, China and Vietnam.
Xinhua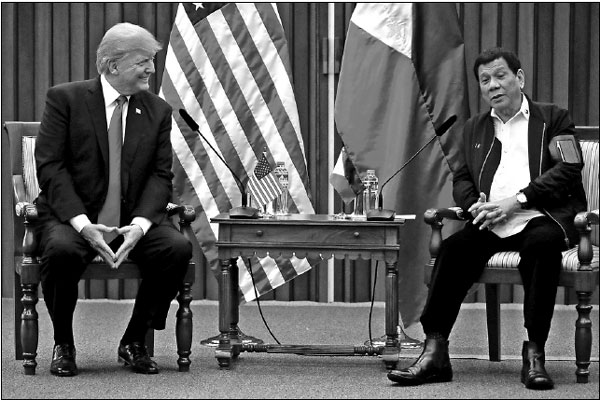 US President Donald Trump holds a bilateral meeting with President of the Philippines Rodrigo Duterte alongside the ASEAN leaders' meeting in Manila on Monday.Jonathan Ernst / Reuters
(China Daily 11/15/2017 page11)
Today's Top News
Editor's picks
Most Viewed