Tusk makes case for tighter link between EU, ASEAN
The European Union made its debut at the ASEAN and East Asia leaders' meetings on Tuesday in an attempt to strengthen ties in the region.
Speaking at the ongoing talks in Manila in the Philippines, European Council President Donald Tusk said the need for cooperation on the economy and security was greater than ever.
Tusk, US President Donald Trump, who is on his final leg of his five-Asian-country tour, Chinese Premier Li Keqiang and other leaders have attended various meetings and discussions since the Manila talks began on Monday.
On Tuesday, EU and ASEAN leaders met to mark the 40th anniversary of the partnership between the two regional blocs, while Tusk highlighted security cooperation at the bilateral level.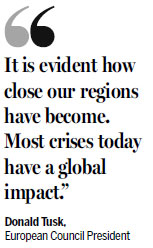 "If we look at security issues, it is evident how close our regions have become. Most crises today have a global impact," said Tusk at the meeting co-chaired with Philippine President Rodrigo Duterte.
"Conflicts in the EU's neighborhood have an impact on markets and societies elsewhere, including here in South East Asia. And tensions and radicalization in the Asia-Pacific can destabilize the world well beyond your region," he said.
Tusk also said EU and ASEAN should work toward a future region-to-region trade agreement that can "set a new standard for global trade" while it has already concluded the bilateral trade agreements between the European Union and several countries within ASEAN.
ASEAN, made up of 10 countries in Southeast Asia, comprises more than 600 million consumers, compared to the EU's 500 million in 28 countries.
The EU is not considering a free trade deal with China right now, though China has reached such deals with several developed economies.
Duterte, who held the ASEAN's rotating presidency, said the meeting with Tusk will "provide directions to bring ASEAN-EU relations to new heights".
Tusk has also urged to build a credible rules-based international order, which he says is vital for ASEAN and EU, when talking about trade, regional security or issues like climate change.
Shada Islam, director of European policy of Friends of Europe, a think tank in Brussels said many Asian countries are still reflecting on the EU's request.
"Given the uncertain global climate and Europe's commitment to a rules-based and open global order, ASEAN would be wise to make the invitation to the EU a permanent one," Islam said.
"For its part, Europe should use the opportunity to further its increasingly strong case for an enhanced security conversation with Asia."
Tusk's speech came after the EU this week agreed to move toward closer defense ties with more than 20 states signing a landmark pact that aims to boost cooperation after Brexit.
Similar efforts to deepen military links have been frustrated for decades, partly by Britain's fierce opposition to anything that might lead to a European army.
fujing@chinadaily.com.cn
(China Daily 11/15/2017 page11)
Today's Top News
Editor's picks
Most Viewed