Premier engages with leaders in useful one-on-one talks
Editor's note: Premier Li Keqiang met foreign leaders on the sidelines of a series of leaders' meetings on East Asia cooperation in Manila on Monday. Here are highlights of some of the talks.
Japan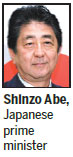 When meeting with Japanese Prime Minister Shinzo Abe, Li Keqiang said that there are some positive changes in China-Japan relations while some sensitive factors still exist.

Today's Top News
Editor's picks
Most Viewed