Shanghai allows autonomous tests
China's first public road trials license to boost intelligent and connected vehicles research, Hao Yan reports.
Intelligent and connected vehicles are becoming the Chinese industry's forte in the new automotive era, with the country setting the scene for autonomous driving tests.
China is set to issue its first public road automated driving test license by June 2018, according to Zhu Xichan, professor at the School of Automotive Studies at Tongji University. He made the comments at the 2017 World Autonomous Vehicle Ecosystem Conference held on Nov 6 in Shanghai.
"The development of intelligent and connected vehicles can improve transport efficiency and safety, while meeting energy-saving and emission-reduction targets. China has the foundation and advantages to succeed in this sector," Xin Guobin, vice-minister of industry and information technology, said at the conference.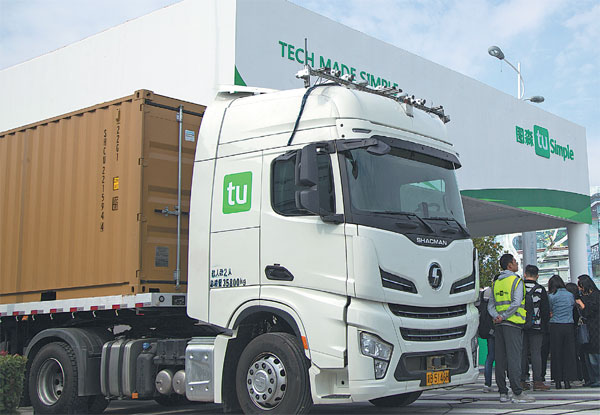 TuSimple Inc demonstrates minds-off automated driving using two modified trucks in Shanghai International Automobile City. Photos Provided to China Daily
"We will create an environment suitable for the development of intelligent and connected vehicles, " he said, "and accelerate the integration of the automobile, intelligent transportation and information technology sectors.
"We will work on co-ordination and deepen international cooperation, continuously improving policies and regulation, as well as taking active measures."
Rong Wenwei, president of Shanghai International Automobile City Group, said he foresees the Shanghai government investing billions of yuan to build the top autonomous driving environment in the world.
"The government will become further involved and participate more in the sector. Its next move will be tackling issues such as data security that require strict control, as it could relate to the nation's security," Rong said.
"The government used to push and drive development by pouring in investment and creating favorable policies, when intelligent and connected vehicles development was in its initial stages."
The Shanghai government has put more than 50 million yuan ($7.53 million) into controlled test zones in Shanghai International Automobile City.
That amount does not cover infrastructure investment.
"We will strive to build an innovation center for intelligent and connected vehicles with global influence by 2020," Rong said.
Shanghai said it will build a world-level facility for research and development, and testing and evaluating intelligent and connected vehicles.
It has also committed to establishing a more standardized legal and regulatory system. These aims are outlined in the Shanghai Declaration inked on Nov 6 by seven parties.
The declaration was made by the Ministry of Industry and Information Technology, the Shanghai government, the United Kingdom Embassy in China, the UK's Centre for Connected and Autonomous Vehicles, the International Transportation Innovation Center, Nomura Research Institute, and the Netherlands Organization for Applied Scientific Research.
Together they will promote pilot demonstrations of intelligent and connected vehicles.
Research into the collection of big data will be conducted to promote its application in developing a low-carbon, intelligent and shared public transport system.
The declaration also aims to gather experts from globally renowned automotive companies, institutes and organizations, build an open and diversified platform for international exchanges and cross-sector cooperation, and share technological innovation and industrial development results.
Matt Tsien, president of General Motors China, said, "Shanghai is in a great position to become a leader to embed connectivity technology into a comprehensive traffic management system, which will help increase transportation capacity within dense urban settings."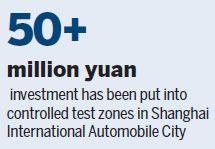 The United States-headquartered company and other automakers have been testing their intelligent and connected vehicles in Shanghai International Automobile City over the past 400 days, after the controlled test zone was put into operation in June 2016.
On a closed testing track in the controlled zone, technology startup TuSimple Inc demonstrated its autonomous driving solutions with two automated running modified trucks. The demonstration attracted the attention of Miao Wei, minister of industry and information technology.
The San Diego-based company said their technologies are capable of level-4 autonomous driving, which is called "mind off" as drivers do not have to supervise the vehicle.
Rong said, "Now Shanghai International Automobile City's controlled testing zone is leading the world in this sector, with its 2-square-kilometer area and 5G telecommunications."
Some carmakers have imported their vehicles to the automobile city to make use of its world-leading environment that facilitates the two 5G standards in many testing scenarios. The next step for Shanghai International Automobile City is to enable intelligent and connected vehicle tests on the open streets, as a 25 sq km region will be ready for tests by the end of 2018, according to Rong.
"We will probably remain ahead of the world in the future in terms of intelligent and connected vehicles testing," Rong added.
Contact the writer at haoyan@chinadaily.com.cn
(China Daily 11/13/2017 page19)
Today's Top News
Editor's picks
Most Viewed