China-made sports car by Saleen to hit market in 2018
United States sports carmaker Saleen is ready to make a charge into the Chinese market, the world's largest, where almost all marques can be found.
Racecar driver Steve Saleen established the brand in 1983. It is frequently found not only in racing competitions but also blockbusters like Fast and Furious, Transformers and Iron Man.
Saleen's first product in China will be its entry-level sports car S1, according to Charles Wang, chairman and CEO of Jiangsu Saleen Automotive Technology Co, a joint venture established in 2009.
"The gasoline version will come first, after its launch at the Los Angeles Auto Show in December. Then the electric version will follow in 2018," said Wang.
The two-door model sports a 2.3-liter turbocharged engine that can generate a maximum output of 336 kilowatts and a top torque of 577 Newton meters. Its top speed can reach 290 kilometers per hour, according to the carmaker.
Jiangsu Saleen is investing 17.8 billion yuan ($2.68 billion) in its carmaking efforts in Rugao, Jiangsu province, the largest-ever investment in the city, according to mayor He Yijun.
Its plant is currently under construction, with an initial investment of 6 billion yuan. When completed in June 2018, it will be able to produce 150,000 cars a year.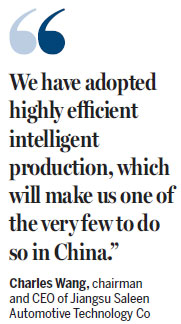 "We have adopted highly efficient intelligent production, which will make us one of the very few to do so in China," Wang said. He added that the carmaker has research teams both in China and the United States.
However, Jiangsu Saleen is not planning to limit its products to the niche market of sports cars. "For example, Porsche will elaborate on its GT and 918 models, but what brings good sales are popular models like the Cayenne, Macan and Panamera," Wang said. "We will take a similar path and produce all sorts of passenger cars including sedans, SUVs and crossovers."
He added that it is very likely that Jiangsu Saleen will produce economy electric cars with partners, which will help with its carmaking license, which are becoming harder to obtain in China.
"We may allow the model to use our technology, but will not bear our marque," Wang said.
Saleen cars are not made only for the Chinese market.
"The US is as important as China to us," said Wang, adding that the carmaker also has a manufacturing facility in the US.
"No matter where our cars are made, we will make them in strict accordance with the same standards." Jiangsu Saleen is planning to introduce a brand new sales model. It is "neither through traditional 4S dealerships, nor like Tesla's direct sales," said Wang, although he did not offer specific details.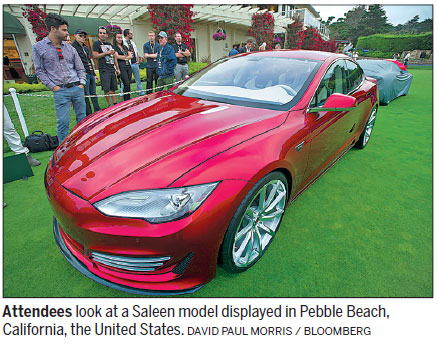 (China Daily 11/13/2017 page18)
Today's Top News
Editor's picks
Most Viewed