Thriving Da Nang 'lauded most livable'
Concerted effort to improve living standards in the Vietnamese city
DA NANG, Vietnam - It's 1 am in the Sky36 bar in the second tallest building in Vietnam's central port city of Da Nang, where dozens of youths are shaking their bodies to the rhythm of electronic dance music and enjoying expensive drinks.
Da Nang has begun to host the 25th Asia-Pacific Economic Cooperation Economic Leaders' Meeting, drawing eyes from around the globe.
"At weekends, we often come here to chat with foreigners," said Nguyen Van Dung, a recent graduate of the University of Da Nang.
Dung has found a well-paid job, working as an information technology engineer, and the same held true with many of his friends.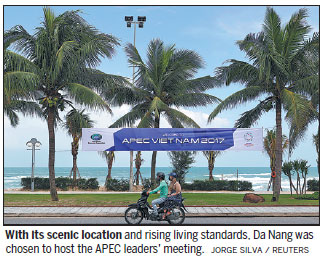 "Seeing us buy a bottle of beer here for 180,000 Vietnamese dong ($8) excluding tax, which is four to five times higher than supermarket prices, some people may think that we spend money like drinking water, but we spend the money we earn legitimately, not by begging or robbing others," said the young man, citing two of "five Nos" that Da Nang authorities are trying to stamp out.
Da Nang has implemented a policy of "Five Nos" and "Three Haves". The former list comprises of no hungry households, no beggars, no illiterates or dropouts, no drug addicts no fatal robberies.
The "Three Haves" refer to people having houses, jobs and a civilized urban lifestyle.
Da Nang authorities have adopted mechanisms and policies which help improve education and training quality and facilitate job creation. Meanwhile, they have also paid due attention to social protection centers which care for disadvantaged groups such as orphans, lonely elder or mentally ill people and Agent Orange victims, local residents said.
"Social protection centers have been upgraded over time, and I think unlucky people there are feeling happier," said Dang Thi Nhung, a student of Duy Tan University.
Over the past three years, Nhung has brought cooked meat and rice porridge to the Da Nang Social Protection Center every Saturday.
Pham Sanh, a taxi driver, said: "If seeing a beggar or a homeless person on the street, and reporting to relevant agencies, he or she may be given food and proper shelter in a certain social protection center, and we will be awarded cash. I haven't seen such people on the street in the last few years."
Da Nang had no poor households by the end of 2015, two years ahead of the target, according to the municipal People's Committee.
Another measure which has won the approval of local resident is leasing or selling nearly 9,000 flats to low-income earners at subsidized prices.
The monthly rental is $44 or lower, and poor families or households with wounded war veterans can enjoy 60-75 percent reduction in the rentals.
"Without the favorable flat-rental policy, we couldn't have afforded a stable residence. As a Vietnamese proverb goes, 'settle down and thrive', our life is improving, our jobs are stable, and our kids' education is becoming better," said Le Thi Van, a local resident who had benefited form the policy.
Last month, addressing an inaugural ceremony of the International Media Center for the APEC leaders' meeting, Deputy Prime Minister Pham Binh Minh said: "This is a good opportunity for Da Nang in particular and our country to promote the image of a beautiful, dynamic, prosperous Vietnam and a friendly and hospitable Da Nang which deserves the title of the most livable city in the country."
Da Nang is the third biggest city in Vietnam in terms of economy and urbanization, after Ho Chi Minh City and Hanoi. In the first half of 2017, Da Nang's economy grew 8.1 percent, while the country expanded 5.73 percent, according to official data.
The New York Times listed Da Nang as one of the "top 52 places to go" in the world in 2015.
Xinhua
(China Daily 11/11/2017 page10)
Today's Top News
Editor's picks
Most Viewed