Trump tweets his thanks for 'incredible' welcome
In social media messages sent via Twitter, US President Donald Trump enthusiastically thanked his host, President Xi Jinping, for his hospitality and spoke highly of the "incredible" display of diplomacy.
"President Xi, thank you for such an incredible welcome ceremony. It was a truly memorable and impressive display!" Trump wrote after the event China staged in his honor.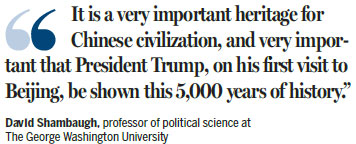 Trump, who is on a "state visit-plus" in China, has sent a slew of short messages on Twitter since he arrived in the country. On Wednesday, he called his first hours in Beijing "unforgettable "and the lavish welcome he received "beautiful".

Today's Top News
Editor's picks
Most Viewed