Recital contest uses artistic forms to strengthen links
The Sino-Russian poetry reciting competition kicked off at Baltic State Technical University, St. Petersburg on Oct 26, as a highlight of the 2017 Russia-China Tour, Jilin Culture Week.
The activity was hosted smoothly by Chinese and Russian college students speaking bilingually throughout the whole session. Their good command of foreign languages and precise emotions during the recital gained the audience's applause.
The poems picked by the competitors ranged from traditional Chinese poems to well-known Russian poems. The event recalled the memory of national poetry culture and strengthened the friendship and cultural communication between the two countries.
Besides reading poetry, the competition also included diverse entertainment, such as musical performances.
"As an important window for the Belt and Road Initiative, Jilin has made great efforts in fostering mutual understanding, cultural communication and cooperation with foreign countries.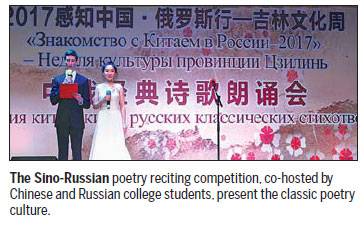 "2017 Jilin Culture Week will allow more Russians to gain further understanding of Jilin and of China," said Su Fangqiu, charge d'affaires of China's embassy in Russia.
She added that on the 60th anniversary of the Russia-China Friendship Association, the typical and unique culture of Jilin returned to Russia once again, enhancing the friendship and mutual understanding between the two peoples.
Five students from the independent Confucius classroom of St. Petersburg Oriental Language and Culture Institute recited classical Chinese poems - Mountain Trip and A View of Lushan Waterfall.
Seven students from Changchun University integrated pure Russian themes with Chinese poetic conception and affectionately recited several masterpieces by celebrated Russian poets, including I Don't Regret, Complain or Cry and The Autumn. Meanwhile, 30 students from Baltic State Technical University read a medley of poetry.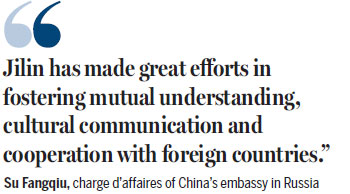 All these brilliant performances reminded Galina Kulikova, the first vice-president of Russia - China Friendship Association, of her golden days in Jilin, she said. She has committed herself to China-Russia friendship for many years and has deep feelings for Jilin and China.
"I do hope that Jilin and Russia can further strengthen cultural communication in the future and both can play valuable roles in consolidating the ties of two nations," Kulikova said.
Jilin Culture Week was initiated by the province in a bid to carry out cultural exchange with developed countries in Northeast Asia, North America and Europe.
The culture week aims to help more foreigners to become familiar with the province and its development, and to dig out more business opportunities for Jilin.
Meanwhile, the culture week shoulders the responsibility of promoting the province's relationship with the host countries and attracting more foreigners to visit and invest in Jilin.
"I'm convinced that the relationship between China and Russia is reaching a new stage. The communication and collaboration between Jilin and Russia are promising and vigorous," said an official from Krasnoyarsk in Russia.
(China Daily 11/09/2017 page19)
Today's Top News
Editor's picks
Most Viewed