GE focuses on localization, partnership and digitization in China
United States-based General Electric has pinpointed localization, partnership, and digitization as the three key initiatives to drive its future development in China, according to the company's China CEO.
"At GE, and at many Chinese and foreign enterprises doing business globally, everyone agrees that the Chinese and American economies are so closely intertwined that engagement is the only way forward," said Rachel Duan, senior vice-president of GE and president and CEO of GE China. For GE - which started conducting business in China back in 1906 and today has over 20,000 employees across 40 cities in the country - China will remain the most relevant growth market in the future for the following four key reasons, or "mega-needs," according to Duan.

First, China is the largest global power market and is expected to grow at an annual rate of nearly five percent until 2020, all while moving towards clean energy and natural gas.
Second, China is currently the world's second-largest global healthcare market, with demand only expected to grow as the number of people above 65 years old will hit 170 million by 2020.
Third, in the aviation market, one-third of aircraft purchases from Boeing and Airbus stem from China. Driven by rapid urbanization, China is expected to become the largest aviation market globally in terms of passenger flow within 10 to 15 years.
All three of these sectors are key areas that GE is focusing on - power, healthcare, and aviation. The final mega-need of Chinese companies going global, according to Duan, is an area in which GE also remains well-positioned to address: through partnerships with Chinese enterprises.
As a foreign enterprise, GE adapted its strategies to market variations during its time in China.
"We have worked to strengthen our local decision-making capability and increase our sensitivity to local needs, so that we can better serve the world's largest infrastructure market," said Duan.
"In this respect, when I took over as CEO of GE China at the end of 2014, we adjusted GE China's strategies and pinpointed three key initiatives that guide the coming years of strategic development for all of our businesses - localization, partnership and digitization."
In terms of localization, Duan emphasized that sustainable growth in today's world requires every business to possess local capabilities inside a global footprint - which, of course, only increases opportunities for engagement.
GE China has been investing in people, processes, and technologies throughout the value chain so that it can design, manufacture and service products closer to customers. But this goes beyond market and sales localization.
As the largest healthcare equipment manufacturer in China, one third of GE's ultrasound probes, half of its MRI machines, and two thirds of its CT machines sold globally are manufactured in Wuxi in Jiangsu province, Tianjin and Beijing respectively.
It also opened its Advanced Manufacturing Technology Center in Tianjin as its first outside the United States, and established its Asia headquarters for global operations in Shanghai.
In terms of partnership, GE has actively joined with many of China's engineering, procurement, and construction companies, winning infrastructure projects involved in the Belt and Road Initiative and working hand-in-hand with some of China's State-owned giants.
To date, GE has partnered with over 30 Chinese engineering, procurement and construction companies in more than 70 markets across Africa, the Middle East, Southeast Asia and Europe. "GE believes that the only way to achieve growth in China is to grow together with our Chinese customers," said Duan.
"This is why we launched our China for the World strategy, committed to building sustainable long-term partnerships with China's national champions to assist them in winning both at home and abroad as they take on the global marketplace."
In partnering with Chinese companies, GE has also formed joint ventures such as AVIAGE with the Aviation Industry Corp of China.
The company delivers technologies, product solutions and services in avionics, both in China and globally through GE's global network.
Meanwhile, GE's LEAP-1C engine, a state-of-the-art jet engine developed through CFM International, was selected as the only Western engine for the Commercial Aircraft Corp of China's C919 - China's first large aircraft.
In terms of digitization, the internet has already transformed how people around the world connect, communicate, and do business, and GE points to the industrial internet as profoundly transforming how industrial companies carry out their operations.
"As the world's leading digital industrial company, with a global footprint and depth of localized capabilities in China, we are partnering with customers and helping them win both in China and worldwide by connecting machines, software, and data analytics to unlock industrial productivity," Duan said. GE opened the Shanghai Digital Foundry, where customers can work side-by-side with a foundry and domain expert to create a strategic business case as well as a customized plan for digital transformation.
"We have seen the benefits of international trade and cooperation both for ourselves, and for our Chinese partners, which is why we look forward to an ever-stronger relationship between the US and China going forward," Duan said.
liyou@chinadaily.com.cn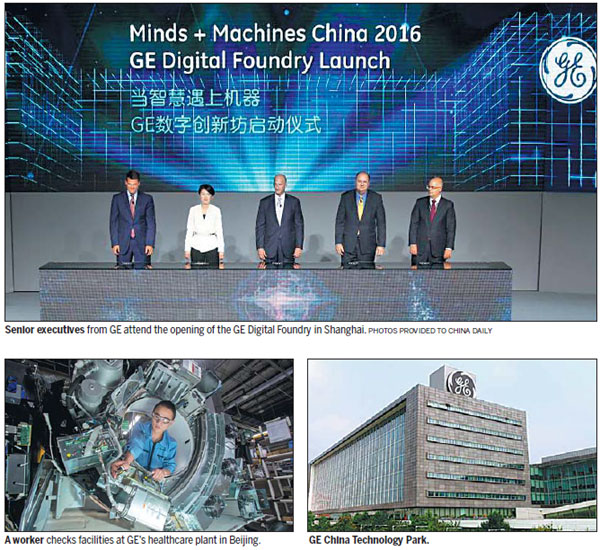 (China Daily 11/09/2017 page11)
Today's Top News
Editor's picks
Most Viewed