WMU's internationalized education a bridge to boost Sino-US relations
As a key university of Zhejiang province, Wenzhou Medical University has been vigorously promoting education internationalization.
It has carried out extensive cooperation and achieved fruitful results with universities and research institutes from all over the world, especially the United States, making a positive contribution to Sino-US friendship.
In July, the university and State University of New York College of Optometry held the first meeting of China Optometry and Ophthalmology Resources Development in Hangzhou, Zhejiang province, which focuses on the development and future outlook of optometry and ophthalmology in China.
Lu Fan, president of WMU, introduced the university's experience in professional optometry courses and some teaching plans, which were widely praised by the experts from the US, the UK, South Korea, Australia and other countries.
In recent years, the university has established partnerships with more than 110 universities and institutions in 26 countries and regions, collaborating in scholar and student exchanges and joint education programs.
By October 2017, WMU had established cooperation relationships with 41 universities and institutions in the US.
One of them is the joint doctor degree project in optometry & ophthalmology between Wenzhou Medical University and the New England College of Optometry started in 1997, which has made contributions to China's medical education and health services. The New England College of Optometry is one of the earliest established optometry colleges in the world, with a great reputation for strong teaching and research strengths in the international medical world.
Some famous optometry companies such as Johnson and Johnson, Bausch Lomb, and CIBA Vision all became members in the plan as international partners.
The plan has selected many outstanding young teachers in domestic medical universities to take training courses and edit optical materials. US professors also came to China to give lectures.
The project is very successful in cultivating a group of much-needed optometry professionals for the country.
It helps to establish the optometry education system in China and greatly promotes Chinese medical progress. Meanwhile, it also enhances the internationalization of Chinese optometry, and promotes many medical educational projects such as the first Sino-foreign cooperative doctoral education project, which majors in ophthalmology & optometry and is co-organized by Wenzhou Medical University and the New England College of Optometry in the US.
Due to the outstanding contributions to Sino-US educational exchanges and cooperation on optometry, the WMU experts Larry Richard Clausen and David A. Heath from the US were awarded the Chinese Government Friendship Award - China's highest honor granted to a foreigner for contributions to the nation's development.
This cooperative education system not only introduces various high-quality resources, but also enhances the teachers' teaching method and research ability; the students also broaden their international vision and innovation ability, improving their international communication ability and social adaptability.
This project was selected as the Zhejiang province's Sino-foreign cooperative education demonstration project in January this year.
In addition, WMU has another Sino-US cooperative education program with Thomas University, which is the first Sino-US cooperative program in nursing in China.
WMU also has a strategic cooperation agreement with the Bascom Palmer Eye Center, the No 1 eye institution the US. These achievements affirm the educational level and teaching quality of the current Sino-foreign cooperative education programs.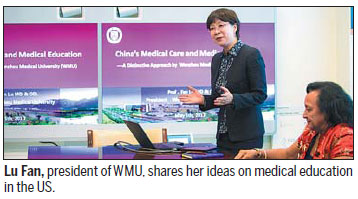 (China Daily 11/09/2017 page14)
Today's Top News
Editor's picks
Most Viewed