TV personality discusses 'big move' to China
Navigating cultural differences, memories of first few years in new country bring smile to Steven Weathers' face
For Steven Weathers, a television personality in China, his decision to make the big move from the United States gave him colorful experiences of cultural and language differences.
Weathers first came to China in 1999 when he was part of a tour group from the US that took him to Beijing and Xi'an, Shaanxi province.
One of the moments he said he still fondly remembers is wandering around Xi'an's Giant Wild Goose Pagoda square and interacting with a group of school children who were intrigued at the rare sight of a Caucasian.
"I was probably the first foreigner many children saw there. They were flying kites, and our tour group talked and laughed with them," said the South Carolina native. "We were all really happy even though we couldn't speak each other's languages."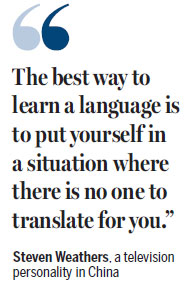 Impressed with his special connection with the Chinese, a fellow traveler in the tour group joked that Weathers would one day be speaking Mandarin as a television host in China. At the time, the 26-year-old simply laughed it off. After all, he already had his own marketing and advertising company in the US.
But little did he know that those words would eventually come true. Eighteen years after that trip, Weathers is now a television star and cross-cultural business consultant in China.
In 2003, after reading stories about the big plans for the upcoming 2008 Beijing Olympics and the Shanghai World Expo in 2010, Weathers decided it was the perfect time to move to China to embark on a new career.
"I can still remember that very moment when I was sitting in my office chair. I always found myself reading everything I could about China. I knew if I could learn Mandarin, it would open up new doors and opportunities, and that was when I decided to make the move," he said.
"I also wanted to help fellow Americans understand China's development more accurately. Most Americans knew nothing about China at that time and that unfamiliarity was an important factor in me deciding to come to this country."
It took Weathers about three years to make that big move, and he eventually decided to go to Luoyang, Henan province, where he began working as an English teacher in 2005.
He said the decision to start his journey in Luoyang was because the city used to be the east capital of the Tang Dynasty (618-907). He also knew he could learn Mandarin faster in a smaller city than in China's metropolises, where many Chinese speak English.
A year later, Weathers moved to Shanghai to teach marketing and advertising at Shanghai Normal University. His first impression of the megacity was one of pure awe.
Weathers said he was amazed at how clean and modern the city was, as well as the rate of development as the city was preparing for the World Expo. It was nothing like what he had seen in the movies and overseas media portrayals, and certainly unlike any city he had seen in his travels to over 50 countries.
Weathers said language was one of the greatest challenges he faced during his initial years in China. He recalled how he once spent over an hour at a gym in Luoyang trying to communicate to the staff about the deposit payment required for a locker.
"That incident taught me that the best way to learn a language is to put yourself in a situation where there is no one to translate for you. You have no choice but to solve the problem on your own," he said.
Cultural differences have proved challenging at times, too. He pointed out that back home in the US, the hosts are usually the ones who initiate the first bite at the dinner table. In China, it is the opposite - the hosts often wait for the guests to start the meal.
As exasperating as these differences might be at times, Chinese culture has nevertheless been a source of several valuable life lessons.
He recalled how he was once frustrated by a parked bus that was blocking a lane in traffic on a day he was running late. Instead of becoming emotional, Weathers' taxi driver simply drove around the bus into oncoming traffic.
"The driver told me that the bus was like a rock and we were water. It was a reference to the traditional Chinese teaching of going with the flow. I'll always remember how he laughed at me and said, 'water never gets angry', and I finally understood a nugget of Chinese wisdom," he said.
Despite having lived in Shanghai for nearly 11 years, Weathers is still impressed with the pace at which the city is evolving.
"We don't see such rapid development in such a short time in America. Many say that one year in China is equal to five years in another country and I believe it," he said.
"New restaurants are opening every day in Shanghai. But as modern as it is, we can still go for nice walks along alleys with shikumen buildings and take in the charm of old Shanghai."
After working for eight years as a freelance host with television station International Channel Shanghai, the US citizen is today focusing on producing his own social media shows titled Steven in Shanghai and Mapping China.
Now that Weathers is fluent in Mandarin, several companies have sought his help with marketing strategy, brand development and media consulting. His TV interviews of over 120 CEOs and business leaders, as well as his travels to 130 cities in almost every province of China, have provided a wealth of understanding of the vast regional markets.
Weathers received Shanghai's prestigious Magnolia Award in 2012 and is now the vice-president of Pudong Overseas Youth Association in Shanghai, of which he has been a member since its inception in 2016.
The association is China's first government organization formed especially for foreigners and was designed to help key business and cultural leaders navigate their way in the country.
Weathers said he joined the organization because he was keen to help foreigners to adapt to the culture and find success in their businesses.
Looking back at his time in the city, Weathers described Shanghai as a comfortable city for foreigners to live in that is filled with adventure. He added that the city is as vibrant as New York and as culturally rich as London, but is much safer and cleaner.
"If I ever have to leave Shanghai one day, it would be difficult because of the energy, opportunities, and of course, the people here. It is home."
Cao Chen in Shanghai contributed to this story.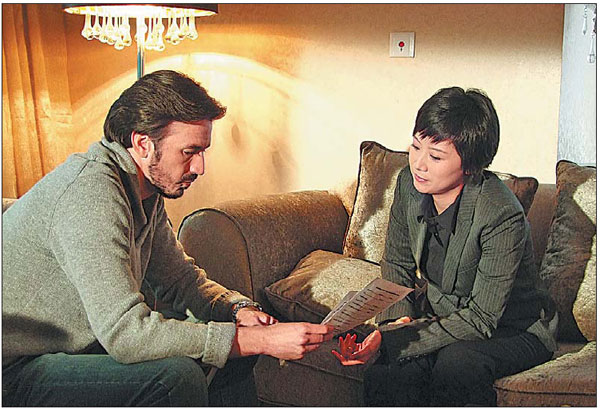 Steven Weathers stars in the popular series Dwelling Narrowness with renowned actress Hai Qing.Provided to China Daily
(China Daily 11/09/2017 page16)
Today's Top News
Editor's picks
Most Viewed