New York's Decoy Chinese restaurant serves creative dishes
Decoy has been the toprated Chinese restaurant in New York over the past five years, according to popular food guide Zagat. The restaurant specializes in Peking roast duck, but its owner is not Chinese.
"You can go to a Chinese restaurant and get really good dim sum, really good dumplings, really good hot and sour soup - they are done in a thoughtful way - but also get a steak," said Edward Schoenfeld, owner of Decoy.
"When my family went out to eat, French restaurants would be very expensive, and Jewish restaurants were not so easy to go to, but a Chinese restaurant was a very normal place to visit when we wanted something that tasted different," he said. "It's a whole different food system, but is easy to like."
Decoy is one of two restaurants Schoenfeld owns in the same building. The other, Red Farm, specializes in dumplings and was No 1 for years, but it was later beaten by Decoy.
"We put chopped ginger in chicken broth, and cook it for five minutes," said Joe Ng, Decoy's head chef from Hong Kong. He makes sure that the restaurant is creative in every dish by combining Western and Chinese cuisines.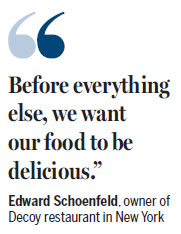 One dish topped with a traditional dumpling features pan-seared scallop and is finished with watercress sauce, fried wanton and caviar.
"Most people who eat the food want a surprise. They want something new and creative, but still not departing from Chinese culture," he said.
Another dish looks like a traditional egg roll, but is actually filled with Jewish-style pastrami and cabbage.
"We share our food in a family style. It's not like an individual Western plate, which you don't share. That's what I want to change right now," the chef said.
Some people insist that Chinese cuisine should remain authentic and original, while opponents campaign for adjustments and changes to cater to local demands, since there are different preferences in Chinese and Western markets.
"I think there is room for both," Schoenfeld said. "The most important thing isn't making traditional or nontraditional food, or trying to cater to your customers, or being more authentic. It's that what you do is genuine - that it is made with good ingredients, that it is made with sound culinary understanding and techniques.
"I know me and my partner Joe Ng - before everything else, we want our food to be delicious."
The restaurant owner said what began by appealing to Westerners is now catching on with Chinese tourists, showing that good food truly knows no boundaries.
China Daily-China Global
Television Network
(China Daily 11/09/2017 page13)
Today's Top News
Editor's picks
Most Viewed