Westinghouse to deliver nuclear reactor in China
Westinghouse Electric Co has vowed to progress the introduction of its AP1000 nuclear reactors in China, which are the first of their kind worldwide. The company's current Chinese projects are based in Sanmen, Zhejiang province and Haiyang, Shandong province, both in East China.
"The AP1000 technology and new reactor-related engineering, services and procurement remain part of our core business and part of the company's long-term strategy to deliver clean, reliable, safe energy to the world," said Jose Emeterio Gutierrez, president and CEO of the nuclear energy technology provider. "Westinghouse remains committed to its AP1000 technology as the industry's premier third-generation nuclear power plant design."
A subsidiary of Toshiba Corporation, Westinghouse announced its bankruptcy earlier this year amid huge losses. However, Gutierrez stressed the move will have no substantial impact on the ongoing AP1000 reactor construction in China, or the company's projects across Asia.
"When Westinghouse filed a petition under Chapter 11 of the US Bankruptcy Code, it did not result in the company going out of business, and one of the reasons Westinghouse filed for Chapter 11 was to protect businesses, customers and employees," Gutierrez said. "Chapter 11 protection gave Westinghouse the right to develop a reorganization plan to emerge in a stronger financial position, with the ability to invest in and grow our core businesses."
Construction for both lead units is completed with construction on the second units progressing.
Testing has been completed at Sanmen and is in process at Haiyang.
Throughout this process, the company's global customers have continued to receive the high-quality products and services they have come to expect, and this includes the delivery of the AP1000 technology in Sanmen and Haiyang, Gutierrez said.
"We're eager to have the first AP1000 plants be connected to the grid."
Westinghouse said it will ensure all the onshore, offshore and technique resources and equipment are delivered on schedule, and will provide ongoing quality and safety management for the Sanmen and Haiyang reactors. Gutierrez said the company is very optimistic about nuclear development in China.
The country has embarked on a huge nuclear program in recent years as it seeks to replace coal-fired power stations to combat air pollution.
Gutierrez said he believes nuclear energy will continue to play a significant role in meeting the world's growing need for clean, reliable, consistently priced energy, to which nuclear is a critical part of the answer.
There are a number of economic and social drivers that make nuclear the right option for clean, safe reliable energy, including its reliability, long-term stable electricity prices and its on-site fuel source location, he said.
"In the case of China, there is a real opportunity to use nuclear energy to provide clean energy that the country needs to improve air quality and daily life.
"China can be the world leader in implementing forward-looking energy systems as part of their strategy."
By 2020, the world's second-largest economy expects to have 58 gigawatts of installed nuclear power, an increase of 16.5 percent year-on-year.
"We believe the AP1000 reactor and innovations like it are the first step in delivering clean, reliable energy in China and around the world," Gutierrez said.
zhengxin@chinadaily.com.cn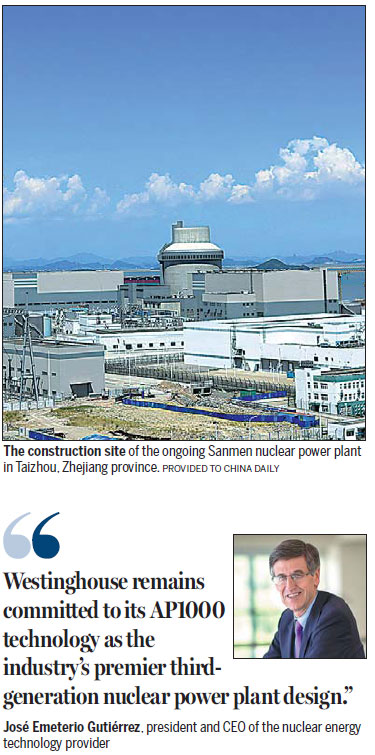 (China Daily 11/09/2017 page14)
Today's Top News
Editor's picks
Most Viewed