Still hope US will join hands to combat climate change
With a new round of UN Climate Change Conference being held in Bonn, Germany, from Monday to Nov 17, and with US President Donald Trump visiting China from Wednesday through Friday, many people feel nostalgic about those days when Beijing and Washington took the lead in pushing for and formally signed the 2015 Paris Agreement, showing a good example of big powers joining hands to meet global challenges.
So it is encouraging to hear the rising voices calling for China and the United States to ramp up cooperation on climate change despite Trump's decision in June to withdraw from the Paris climate accord and focus instead on bolstering the US' fossil fuel industry.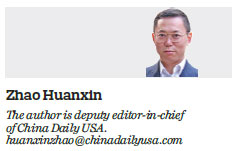 In Bonn, government delegates and experts are working on a "rule book" for the Paris Agreement, which seeks to end the fossil fuel era in the second half of the century by shifting the world economy to such cleaner energy as wind and solar power, according to a Reuters report.

Today's Top News
Editor's picks
Most Viewed