New energy vehicles - a case of too many, too soon?
Workers assemble digital electric generators at a production line of new energy cars in Ganzhou, Jiangxi province. Bao Gansheng / For China Daily
Chinese authorities investigate whether manufacturing rush will lead to sector's overcapacity
China is investigating whether its new energy vehicle sector suffers from overcapacity as both traditional carmakers and newcomers have been jumping on the bandwagon in recent years.
Song Qiuling, a senior official at the Ministry of Finance, said China's drive to promote production of new energy cars has had some negative impact, according to Caixin Magazine, but she did not specify what measures China will take if there are overcapacity problems.
Song made the remarks at a meeting earlier this month on China's newly enacted regulation, which demands carmakers in the country produce a certain percentage of new energy vehicles starting in 2019.
China launched an initiative to promote the sector in 2009 and started to subsidize it one year later. The moves have made China the world's largest market for such cars, home to about 1 million of them by the end of 2016.
Government subsidies and the sector's bright prospects have fueled investors' enthusiasm to a high degree in the country.
According to statistics compiled by the Economic Observer newspaper, more than 1 trillion yuan ($150 billion) was poured into more than 200 new energy car projects from 2015 to the first half of this year.
The plants have a combined design capacity of producing 21 million vehicles a year when they are completed around 2020, which is already 10 times the production goal China's Ministry of Industry and Information Technology set for the year in a long-term development plan released in April.
But some analysts said overcapacity is not as easy to see as the numbers would suggest. They argue the designed capacity does not necessarily equate to the actual production capacity in the end.
Such projects are usually implemented phrase by phrase, they explain, and some companies might intentionally put a higher number on their blueprints to attract more investment.
Wang Binggang, a senior expert on China's national new energy car initiatives, said the investigations may target those who look to profiteer by reselling their carmaking licenses, which are getting harder to obtain in China.
"Some companies, which used to produce bus or special vehicles ... have no intention to really enter the new energy car industry, so they neither conduct research and development nor produce cars. They would like to make money by selling the licenses," said Wang in an interview with China Business News.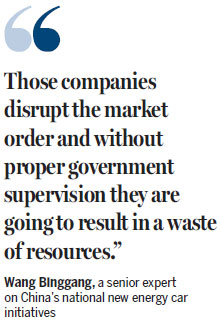 Some others are so obsessed with government subsidies for new energy cars that they even lie to get them illegally.
About a dozen, including Suzhou Gemsea, were caught and fined in a crackdown in 2016.
The government had earmarked 33.4 billion yuan of subsidies by the end of 2015.
It is phasing out such incentives and is expected to stop them by the end of 2020.
"Those companies disrupt the market order and without proper government supervision they are going to result in a waste of resources," Wang said.
China has also temporarily suspended issuing carmaking licenses in the hope of raising the threshold for the new energy car sector.
A total of 15 companies had won licenses from the authorities in 17 months starting from March 2016, which has led many to wonder whether such a rush is favorable for the sector's long-term development.
At a forum in January, Song, official with the Ministry of Finance, said the new energy car sector is faced with the problem of too much capacity for low-end products yet too little for high-end ones and Chinese carmakers are yet to come out with cars that are competitive internationally.
Statistics from LMC Automotive Shanghai show that at least 70 percent of new energy cars sold in China are priced as low as 50,000 yuan or less.
China sold 400,000 such cars in the first nine months this year, a 37.7 percent rise year-on-year, according to the China Association of Automobile Manufacturers. It expects sales to reach 700,000 by the end of the year.
lifusheng@chinadaily.com.cn
(China Daily 10/30/2017 page18)
Today's Top News
Editor's picks
Most Viewed