Expo on elderly care industry draws international focus
A key expo focusing on the elderly care industry is set to attract international attention due to the challenges posed by the growing proportion of senior citizens in China.
The Aging Industry Expo in Chengdu, Sichuan province, runs from today until Nov 29.
Hosted by the China Aging Development Foundation, the expo has attracted widespread interest.
Joining in are participants and companies from 15 countries - including Australia, Japan, Britain and Israel, 11 provinces and municipalities including Beijing, Shanghai, Guangdong and Shenzhen and 21 cities in Sichuan province.
The expo has the theme "aging innovation, supply and demand connection, industry leading and service guiding."
Organizers say the expo will showcase the entire industrial chain linked to elderly care of senior citizens - including institutions, services, supplies and solutions.
It will mainly demonstrate the leading concepts from elderly care institutions and companies at home and abroad and the various products.
That's according to an official with the exhibition bureau in Sichuan province.
More than 36,000 square meters of exhibition area in eight pavilions will have displays on such subjects as elderly care and services and rehabilitation equipment.
"There is a huge national demand for rehabilitation equipment and there are lots of challenges," said the official at the Sichuan exhibition bureau.
The numbers of senior citizens in the province - those older than 60 - reached 17.39 million by the end of 2016, accounting for 21.1 percent of the permanent population in Sichuan.
That's according to statistics released by the Department of Civil Affairs in Sichuan.
As one of the countries that have the highest proportion of senior citizens, Japan has the most advanced rehabilitation equipment and services, said the official.
He said it could offer its rich experience in tackling the problems associated with the growing proportion of seniors during the expo - and visitors could learn from the country.
The first China-Japan summit on rehabilitation equipment services and applications will be held during the expo.
It will discuss topics including the rehabilitation industry and its role in Japan, the construction of a services system for the elderly and smart research into aging in China - as well as the role rehabilitation services play in communities and families.
Experts and officials from China and Japan will make keynote speeches at the summit.
They include Zhang Xiaoyu, president of China Association of Assistive Products, Tanaka Osamu, director-general of Japan Assistive Products Evaluation Center, Peng Jialin, expert committee member of Standardization Committee of Ministry of Civil Affairs, Sonoda Naonori, director-general of the Research Institute of Asian Regional Society and Zhao Qiang, chairman of Beijing Heyici Old-age Living Goods Co.
The expo will also have various activities including an elderly services innovation forum, training for working in the sector and a look at elderly care institutions.
"The expo will help to solve asymmetries between supply and demand for elderly care services," said a Sichuan province official.
He added that by introducing companies and concepts from home and abroad, the expo could create a platform for Sichuan and its elderly care institutions to exchange knowledge.
"The elderly care industry is relevant to people's lives," the official said.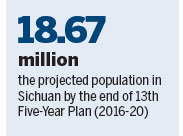 "The expo has attracted departments and individuals from elderly care services. We hope to integrate resources and encourage involvement through the expo," he added.
New project
A week before the expo, a new project for an elderly care system in rural areas in and around the cities of Mianyang and Meishan - as well as seven districts and counties - was initiated.
It has secured funding of 54 million yuan ($8.13 million).
Yixi Dawa, director of the Department of Civil Affairs in Sichuan province said: "the project aims to explore a new road for the elderly care services in Sichuan's rural areas.
By 2018, the project will be implemented and it will provide invaluable experience to replicate and operate other rural elderly care service systems, he said.
"Sichuan will build a rural elderly care services system with the combination of compensation and free online-to-offline services in 2020."
"The construction of Sichuan's elderly care system achieved initial success during the 12th Five-Year Plan period (2011-15)," Yixi Dawa said.
He added that such problems as inadequate policies, institutions and staff remained to be solved.
He said that the 13th Five-Year Plan (2016-20) period was a crucial time for the reform, construction and development of the elderly care system.
Yixi Dawa said that, in accordance with the State's and the provincial government's instructions, the department had worked out a general plan to promote the construction of the province's elderly care service system.
The plan will detail regulations on protecting the rights of senior citizens.
It will promote the development of elderly care services and seek to break through current obstacles.
These obstacles include accessing basic data about seniors and elderly care institutions, constructing websites, innovating a rural elderly care service, strengthening staff training and improving insurance for elderly care services.
According to official estimates, by the end of the 13th Five-Year Plan (2016-20), the provincial population over 60 years old will have reach to 18.67 million.
That will account for 22.7 percent of the total population, with those over 80 numbering 2.87 million.

Left: Senior citizens study embroidery art at a local university in Aba Qiang Pefecture in Sichuan. Right: A social welfare home in Nanchong, Sichuan province. Photos provided to China Daily

Left: A folk music band is composed of senior citizens. Right: Sichuan Senior Citizen University teaches painting.
(China Daily 10/27/2017 page24)
Today's Top News
Editor's picks
Most Viewed