China becomes Maserati's largest market with Levante contribution
China has become Maserati's biggest market, overtaking the United States, thanks to the Italian super luxury carmaker's ever-growing lineup and rapid expansion of its dealership network in the country.
In the first three quarters of this year, Maserati's sales surged 47 percent year-on-year to 10,479 units in the world's biggest car market and are expected to hit a record high for the whole year, said Mirko Bordiga, managing director of Maserati China.
The stunning performance came after Maserati garnered its best-ever China sales of 12,250 cars in 2016, following its launch of the Levante, Maserati's first-ever SUV, and the upgraded flagship Quattroporte luxury sedan.
Bordiga said the Levante had contributed most.
"In just one year, China has become the largest market for the Levante worldwide," he said.
Since its debut at the 2016 Beijing auto show, the Levante has become the most popular Maserati model.
Since the first one was delivered in August 2016, the SUV has maintained stable growth despite market fluctuations and also driven sales of other models in the Maserati China product portfolio.
The company said its Levante strengthened the Maserati lineup and opened up a new customer segment, adding that it is a much-needed new option in the luxury SUV market for those attracted by Maserati's unique brand characteristics and desire for what the Maserati lifestyle represents.
Maserati now has a total of more than 40,000 customers in China, thanks to its rich brand heritage and the outstanding performance of its cars.
Rapid dealer network development
With its growing market share in China, Maserati has continued to grow its dealership network and it has opened new showrooms this year.
The number of authorized dealerships and points of sale are estimated to reach 66 and 74 respectively by the end of 2017, a 35 percent rise year-on-year.
Maserati said these stores are an essential part of its commitment to become ever closer to local customers and provide them with the world-class services.
Working hand in hand with them, Maserati has achieved such a great performance despite tough market conditions in China.
One of the key factors behind this success has been to ensure the profitability of dealers. According to Maserati China, its authorized dealers saw their average net profit increase by nearly 5 percent during the first three quarters of 2017, one of the best performances in the industry.
Stable dealer profitability has ensured the stability of the current network and set up a solid foundation for further expansion.
New strategic model
Maserati will unveil yet another show-stopping model at the Guangzhou auto show that is scheduled to kick off in November.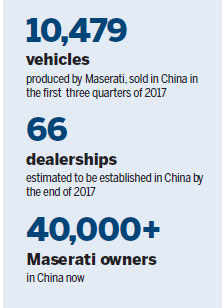 The company did not disclose more details, but said this new product will meet the growing needs of young Chinese consumers who are eager to express their individual personalities and discerning tastes.
The model comes after Maserati's global launch in Chengdu, Sichuan province earlier this year of the new Ghibli, a model favored by young elites all over the world.
In China, the Ghibli has won the hearts of customers with its dynamic lines, strong and vibrant personality, and sporty yet glamorous sculpted forms.
Maserati calls its Ghibli a car for people who above all value excellence and are driven by success.
It is hailed as evidence of the carmaker's staying true to its original philosophy, in line with which Maserati has preserved elegant designs, racing genes and fine Italian craftsmanship.
Maserati came to China in 2004 and since then it has been committed to bringing superb experiences and services to Chinese customers and fans, according to Bordiga.
"Brand affinity and customer satisfaction are the driving forces for our constant growth," he said.
"We will continue our efforts to bring higher-quality services, better driving experiences, and more meaningful cultural and lifestyle programs built on our century-old DNA of luxury and sportiness."
Founded in Italy in 1914, Maserati is present in more than 60 countries across the world, with its current portfolio including the Quattroporte, Levante, Ghibli, and GranTurismo/GranCabrio.
lifusheng@chinadaily.com.cn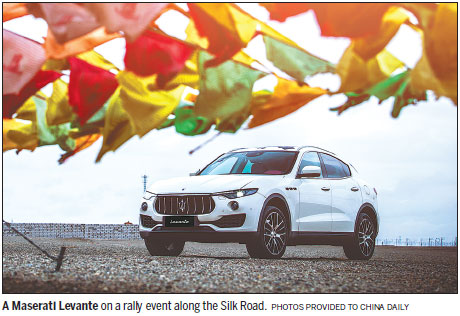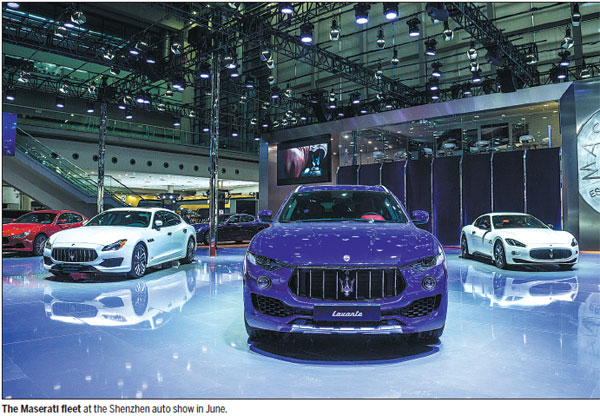 (China Daily 10/27/2017 page5)
Today's Top News
Editor's picks
Most Viewed