Einstein's hotel note fetches auction record
JERUSALEM - While Albert Einstein's theory of happiness may be relative, it fetched $1.56 million at a Jerusalem auction on Tuesday.
The Nobel-winning scientist's musings, handwritten on a note, may not be as famous as his groundbreaking theory of relativity, but they still shed light on one of the great modern minds.
Winner's Auctions and Exhibitions said Einstein was traveling in Japan in 1922 when he was told he would be awarded the Nobel Prize in physics. In Tokyo, Einstein scribbled the note in German to a bellboy after he did not have cash to give him a tip.
"A calm and modest life brings more happiness than the pursuit of success combined with constant restlessness," it reads.
Gal Wiener, CEO of the auction house, said Einstein told the bellboy that because of his fame, the handwritten note "will probably be worth more than a regular tip".
The winning bid for the note far exceeded the pre-auction estimate of between $5,000 and $8,000, according to the website of Winner's auction house.
"It was an all-time record for an auction of a document in Israel," said Winner's spokesman Meni Chadad.
The buyer was a European who wished to remain anonymous, he said.
Bidding, in person, online and by phone, started at $2,000. A flurry of offers pushed the price rapidly up for about 20 minutes until the final two potential buyers bid against each other by phone.
Applause broke out in the room when the sale was announced.
"I am really happy that there are people out there who are still interested in science and history and timeless deliveries in a world which is developing so fast," the seller said after the sale.
A second Einstein note written at the same time that simply reads "where there's a will, there's a way" sold for $240,000, Winner's said.
Einstein was a founder of the Hebrew University in Jerusalem and left it his literary estate and personal papers. He declined an invitation to serve as Israel's first president.
Two other letters Einstein wrote in later years were also auctioned on Tuesday, fetching prices of $33,600 and $9,600.
In June, letters written by Einstein about God, Israel and physics sold for nearly $210,000 at a Jerusalem auction.
Roni Grosz, the archivist in charge of the Einstein collection at Jerusalem's Hebrew University, said: "What we're doing here is painting the portrait of Einstein - the man, the scientist, his effect on the world - through his writings.
"This is a stone in the mosaic."
Ap - Afp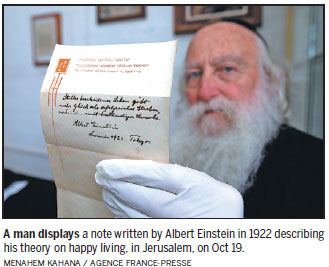 (China Daily 10/26/2017 page11)
Today's Top News
Editor's picks
Most Viewed