Competition captures latest industrial trends

Seventeen projects competed in the final of the 2017 China MBA Entrepreneurship Competition in Shanghai in late July. Provided to China Daily
Shanghai Jiao Tong University is boosting entrepreneurship in its MBA education program by hosting the annual China MBA Entrepreneurship Competition.
This year, a team from the university won the national final in late July with its Broad Life Medical Supply Chain Management project.
The project was tailor-made for the cold-chain distribution of biological reagents and samples. It covered customized packaging, one-stop temperature-controlled logistics services and whole-process monitoring.
Similar to Shanghai Jiao Tong University's project, three other projects of the 17 finalists were also related to the healthcare industry.
Tsinghua University set up an online psychological hospital in Guizhou province, Tianjin University used gene sequencing and artificial intelligence to detect cancer, and National Chiao Tung University, from Taiwan, presented a wrist device used to test blood glucose levels.
New energy projects were also popular.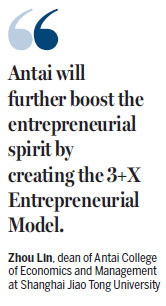 The Graduate School of the Chinese Academy of Social Sciences developed a hydrogen fuel cell drone with a flight endurance of three hours.
Sichuan University's project was solid-state lithium-ion batteries, Xi'an Jiaotong University's project was an electronic control system used in new energy vehicles, while Sun Yatsen University presented an energy-saving electro-heating system for industrial use.
Nearly 65 percent of all the projects in the final were high-tech projects, seven of them were granted patents.
Kicking off in January, this year's competition received more than 200 applications nationwide. After multiple rounds of selection procedures, 17 made it to the final.
Most of the finalists focused on new energy, healthcare, information technology and the sharing economy.
By capturing the latest industrial trends while delving into market segments, the projects showcased great quality and high maturity, the judges said.
Launched by Antai College of Economics and Management at Shanghai Jiao Tong University in 2002, the China MBA Entrepreneurship Competition has established a reputation for being a pioneering program that encourages and supports business students throughout China, including Hong Kong and Taiwan, pursuing their innovative business ideas.
Zhou Lin, dean of Antai College of Economics and Management, said that "Antai will further boost the entrepreneurial spirit by creating the 3+X Entrepreneurial Model", which combines education, funds and other startup activities, and more diversified entrepreneurship programs are expected to be launched.
Centering on its multifaceted, interdisciplinary MBA educational system, the college has fostered a batch of startup projects by offering related courses, and training and holding startup competitions.
2018 Antai MBA program intake
Round 1
Deadline for applications:
Nov 24, 2017
Date of interviews:
Dec 2, 2017
Round 2
Deadline for applications:
March 2, 2018
Date of interviews:
March 10, 2018
Round 3
Deadline for applications:
April 27, 2018
Date of interviews:
May 5, 2018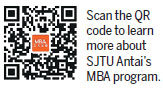 Round 4
Deadline for applications:
June 15, 2018
Date of interviews:
June 23, 2018
(China Daily 10/16/2017 page15)
Today's Top News
Editor's picks
Most Viewed