Common success and partnership
The relationship between China and Germany is a story of common success.
Forty-five years ago, diplomatic relations between the two countries were established.
At the time, the political relations were distant, commerce was going slowly, and there was almost no direct exchange between the citizens of the two countries.
Today, in 2017, relations have never been better: Germany is by far China's most important trade partner in Europe. For a long time, China has numbered among Germany's most important trade partners worldwide, with a bilateral trade volume of 171 billion euros ($200.8 billion) in 2016.
German companies have invested billions of euros in China and Chinese companies are successfully investing in Germany.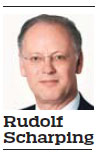 In addition, an increasing number of people come to visit the other country, and more than 30,000 young people from China have taken up studies in Germany. Big art exhibitions like "Deutschland8", currently exhibiting German artists in Beijing, show how strong the cultural exchange has grown.
The same goes for scientific exchange and multifaceted political and economic discourse. All of this is supported by a comprehensive strategic partnership, into which the governments of both sides entered in mutual trust.
In addition, new areas of cooperation have arisen since China started to change its growth model.
Made in China 2025, improving energy and resource efficiency, increasing urbanization, modern agriculture, upgrading services, and a more effective social security net are some of the possible areas of cooperation resulting from the current five-year plan.
Both sides remain equally interested in investments. Chinese investments overseas, as well as in Germany, are increasing heavily.
In 2016, China invested 35 billion euros in the EU, but the investments are changing their focus.
Access to technology, joint development of industrial markets, the areas of healthcare or medical technology, improved quality of products and processes in Chinese companies - these are some of the newest trends and opportunities.
Made in China 2025 and Industrie 4.0 complement each other in these areas.
And slowly, but steadily, people in China recognize that the best machinery is only as useful when you train, and continue to train its operators. Cooperation in all areas of vocational training therefore has great potential.
Pollution of air, water, and soil is a result of quick growth, driven by the desire to be profitable and generate workplaces in a short amount of time. This corresponds to Germany's experience after the Second World War, during the reconstruction period - an exchange of experience as well as modern technology should therefore be worthwhile.
There are already some good examples of cooperation in these sectors. In general however, the areas of air pollution control, protection of soil, groundwater, and rivers, recycling of resources, or purification of waste water should be regarded as a major common challenge. Especially highly qualified German medium-sized companies need a stable structure for this purpose and in China, long-lasting stability and clear incentives are indispensable for cities and the development of agriculture.
Chinese and German companies are both possible partners and competitors. Some Chinese companies are market leaders in their respective industries. The innovative energy within the Chinese economy is growing rapidly, manifesting itself in the high number of patent applications, the world's biggest e-commerce market, or the development of electronic payment systems. Germany can benefit from the experience in these areas of modern services and innovations in payment systems.
The Sino-German relations will continue to develop extensively - intensity and scope of political and economic, social, and cultural relations will continue to grow quickly.
Simultaneously, chances will improve to slowly solidify the principle of reciprocity and close possible gaps; for example in the areas of regulation of capital and financial markets, equal access to markets, improving the rule of law, or the protection of intellectual property.
The knowledge of each other's culture and history, current policies and society should deepen, because already today, China and Germany share superior interests in a global context of a secure and stable world order, as well as in promoting a healthy and stable development of their respective national economies and societies.
The author is the CEO of Germany-based RSBK AG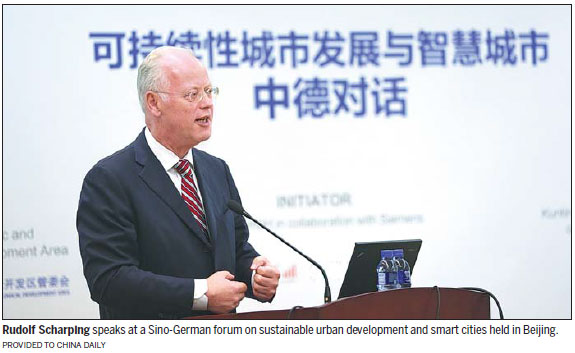 (China Daily 10/13/2017 page11)
Today's Top News
Editor's picks
Most Viewed