Floods, landslides claim 37 lives in Vietnam
HANOI - At least 37 people have died and another 40 are missing as floods and landslides ravage north and central Vietnam, destroying homes and leaving rescuers scrambling to find survivors, disaster officials said on Thursday.
Tens of thousands were evacuated after heavy rains lashed swathes of the country this week, as forecasters warned of more bad weather to come.
Northern Hoa Binh is the hardest hit with 11 dead and 21 missing, prompting a state of emergency to be declared.
"We are mobilizing all forces to search for the missing," a disaster official said by phone, declining to be named.
Rescue efforts were hampered as water and mud submerged roads in several areas, including in Hoa Binh where eight died in an overnight landslide.
"People should be evacuated from dangerous areas, the safety of people and their belongings must be ensured," Deputy Prime Minister Trinh Dinh Dung said on state-run Vietnam television.
A terrified resident described severe flooding in another part of the province.
"The flash flood was terrible. Water poured down from the hill, like a surge three meters high. Traffic has been blocked because of the floods," Phan Ba Dien told state-controlled VNExpress news site.
A journalist from Vietnam News Agency reporting on the storm was swept away along with four other people as an overflowing river demolished a bridge in northern Yen Bai province on Wednesday.
One survived and authorities were still looking for the other four on Thursday.
Rescue operations
Images on state media showed people wading through knee-deep waters and tracts of forests that had been wiped out by landslides.
Road access was completely cut off in some areas.
"Water was just rushing downstream ... it's been a long time since I witnessed that kind of flooding in mountainous areas. I didn't feel safe driving at night, it was scary," said Hanoi resident Nguyen Vu Ngoc, who was traveling in the north on Wednesday.
The disaster has killed 37 people in six provinces, with more than 18,800 houses damaged or destroyed along with tens of thousands of hectares of farmland, Vietnam Disaster Management Authority said.
Officials said they were focused on rescuing dozens of missing people on Thursday as rain subsided in most areas.
Residents desperately ferried furniture and other belongings over flooded roads in Son La province, where houses were demolished and electricity poles torn down.
At least 400 millimeters of rain have swamped northern and central Vietnam since Sunday, the disaster agency said.
Vietnam is routinely hit with severe weather, with nearly 170 people killed or missing in disasters so far this year.
Afp - Reuters - Xinhua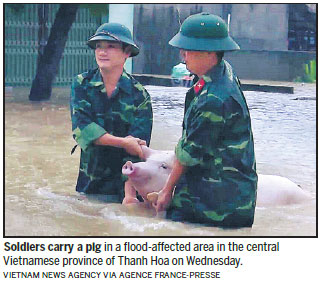 (China Daily 10/13/2017 page12)
Today's Top News
Editor's picks
Most Viewed