City has a starring role in movie firmament
As the location of one of China's earliest cinemas, Qingdao seems to be an apt site for one of the world's largest film studios
There is more to Qingdao than beer, sailing boats and the idyllic life of those lucky enough to live near the sea.
Film has played an indispensable part in Qingdao's development over the past 100 years, the city having had its first cinemas in the early 1900s, when film and filmmaking were in their fledgling years.
In 1900, films were shown in Prince Heinrich Hotel, which was built by the Germans, making it one of the earliest cinemas in China.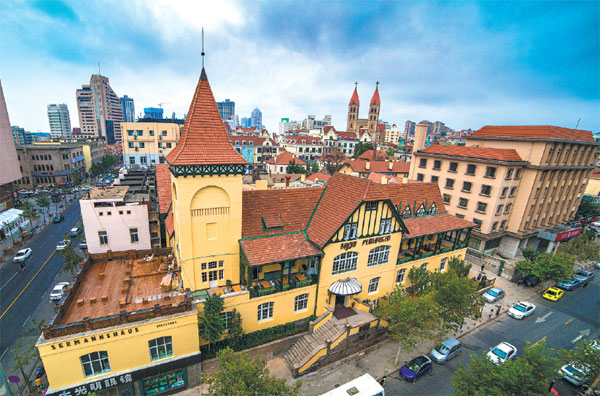 The 1907 Movie Club in Qingdao, Shandong province. The building, completed in 1902, was the former Qingdao Seamen's Club. Now, after renovations, it is a new film landmark in the city. Photos Provided to China Daily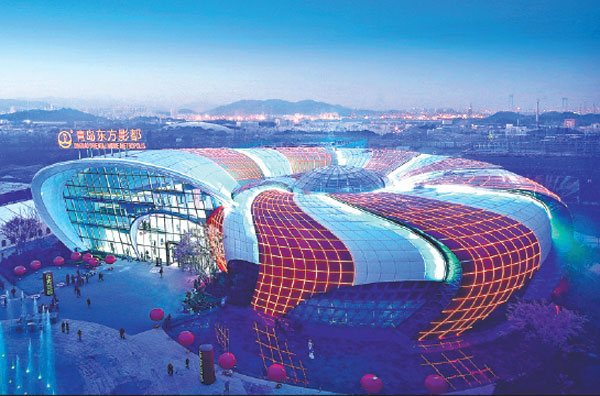 The $8.2 billion Oriental Movie Metropolis, built along Qingdao's West Coast New Area, combines film and television production with a theme park.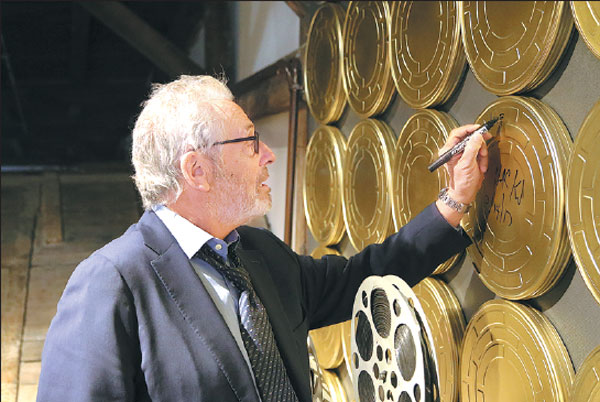 Hawk Koch, former president of the Academy of Motion Picture Arts and Sciences in the United States, signs his name during a visit to the Qingdao Film Museum.
Seemannshaus, or Qingdao Seamen's Club, which many culture experts regard as the first commercial cinema in China, started advertising and selling tickets in 1907.
It would not be until 24 years later that the foreign monopoly on cinemas was broken when the first Chinese-run cinema opened.
With that close and enduring relationship with film, all areas of the city, including those overlooking the water, former residences of celebrities, landmarks and streets, have come to figure in films made in both China and abroad. The city served as a backdrop for many old movies, and last year more than 200 films were shot in the city.
Blessed with an eye-catching coastal landscape, European-style architecture and well-preserved heritage, the city has been hailed as a natural studio and favored by many filmmakers and directors.
It is also the birthplace or home of many movie stars, including the veteran actor Tang Guoqiang, known for playing Chairman Mao Zedong, and Fan Bingbing, who has starred in Hollywood movies.
Qingdao, with its natural assets, economic prowess and well-developed cultural industries, has ambitions to be a top film destination with a flourishing industry chain and is now aspiring to join the UNESCO Creative Cities Network as a "City of Film".
The city is home to what is said to be the world's largest film studio, the $8.2 billion Oriental Movie Metropolis, built along the city's West Coast New Area, which combines film and television production with a theme park.
Last year the Oriental Movie Metropolis said it planned to build 45 world-class filming studios, the first 15 of which came into operation during the year.
Most of the scenes in The Great Wall, the Sino-US movie directed by Zhang Yimou, were shot there in 2015. The movie was released last year.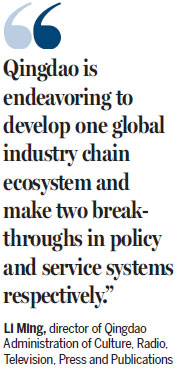 "The production of The Great Wall was the start of blockbusters produced in China reaching international standards," says Yuan Meilin, general manger of Qingdao West Coast Cultural Industry Investment company.
The Pacific Rim 2, produced by Legendary Pictures and Warner Brothers Pictures, was also shot there.
Yuan says a film script incubation project has also been set up to collect and subsidize good screenplays and creative ideas.
"In addition to financial support, the most important mission for us is to cultivate more film production talent."
The park has entered into partnerships with the University of Southern California and Qingdao Technological University to foster film production talent, such as property managers and lighting engineers.
After the park is completed next year, more than 100 films and TV series are expected to be produced there every year, which will promote more than 1,000 startups and create about 100,000 job opportunities.
About a year ago the Qingdao Municipal Government held a film summit in Los Angeles, promoting Oriental Movie Metropolis and the city's film industry. The summit attracted representatives from renowned Hollywood producers and associations, including Warner, Sony and Legendary Pictures.
In addition, the city signed nine agreements with Hollywood film producers on collaboration in filmmaking, and 11 blockbusters will be shot in the park in the future.
The Qingdao Municipal Government has adopted policies aimed at attracting film producers through subsidies.
"Qingdao is endeavoring to develop one global industry chain ecosystem and make two breakthroughs in policy and service systems respectively," says Li Ming, director of Qingdao Administration of Culture, Radio, Television, Press and Publications.
The city also plans to build three platforms promoting film: an international movie festival, an international film trade center and a film arts and technology innovation center, Li says.
Qingdao's film industry includes fields from script to shooting, production, distribution, screening and promotion. In addition, film has played a central role in the development of leisure, tourism and music industries, which has created more jobs.
About 3,000 companies in the city are now involved in the film industry, employing more than 150,000 workers, according to official figures. The city has 52 cinemas and 347 movie screens. In addition, there are about 330 mobile film projection teams with 570 workers.
"The Qingdao municipal government provides strong support for the growth of the film industry with an international vision, so it has great potential in the industry," Zhang Yimou says.
In 2015 the Qingdao municipal government decided to apply to join the UNESCO Creative Cities Network and become what is called a Film City in an effort to improve the city's creative potential for sustainable urban development through exchanging knowhow and working with others overseas.
The appraisal and selection process started in August, and the outcome will be announced on Oct 31. If it succeeds, Qingdao will become the ninth UNESCO City of Film worldwide and China will eventually have its own film city.
The UNESCO Creative Cities Network includes crafts and folk arts, media arts, film, design, gastronomy and music.
The local titles so far given Cities of Film status are: Bitola, Macedonia; Bradford, England; Busan, South Korea; Galway, Ireland; Rome, Italy; Santos, Brazil; Sofia, Bulgaria; and Sydney, Australia.
xiechuanjiao@chinadaily.com.cn
Leading players on the local movie scene
Lingshan Bay Industrial Park and Oriental Movie Metropolis
Lingshan Bay Film and Cultural Industrial Park, with a planned area of 44 square kilometers, has attracted investment of $18 billion. The most eye-catching project in the park is Qingdao Oriental Movie Metropolis, which opened last year.
In addition to developing a film industry chain that covers shooting, post-production, education and downstream sectors such as tourism, leisure and entertainment, it is home to several big data operations, including the HP Global Big Data Research Center.
Qingdao Film Museum
It covers 1,000 square meters and has exhibits on early developments in the world of film and on the history of movies in Qingdao. It has more than 1,000 old items on show. It also has an interactive experience and entertainment area, where visitors can experience classic episodes of movies such as Roman Holiday and Amelie.
The museum is on the third floor of the 1907 Movie Club, on the former site of the Seamen's Club. The club, built in 1902, was home to the first-ever cinema in China. A Western restaurant, a theater, a museum and a book and souvenir store are now located there, and exhibitions and workshops about movies are often held there.
(China Daily 10/04/2017 page6)
Today's Top News
Editor's picks
Most Viewed