Economic cooperation deepens Central, Eastern Europe '16+1' ties
Beijing is aiming to strengthen economic cooperation with 16 cities in Central and Eastern Europe involved in the Belt and Road Initiative, particularly in the fields of tourism and healthcare, Chen Jining, the acting mayor of the capital, said at a high-level summit.
The Second China-CEEC 16+1 Capitals Mayors Forum was held recently in Podgorica, the capital of Montenegro.
The forum held in mid-September aimed to create a sound business environment and to promote exchanges among CEE capital cities, with 50 representatives from Beijing companies in attendance.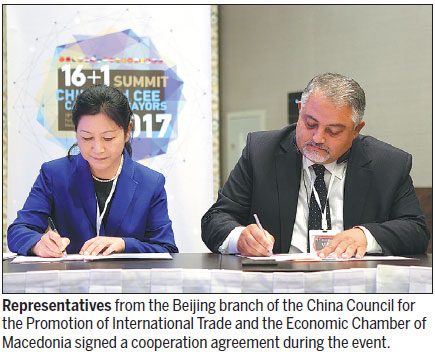 "To support the '16+1 cooperation', the forum should be fully used to serve as a platform for boosting the cities' mutual beneficial cooperation and sustainable development. Within the strategic agreements and collaboration framework, Beijing has secured various economic cooperation agreements," said Chen. Initiated by China in 2012, and now a crucial part of the Belt and Road Initiative, the "16+1 cooperation" aims to intensify and expand economic, trade and cultural cooperation with the 11 European Union member states and five Balkan countries: Albania, Bosnia and Herzegovina, Bulgaria, Croatia, the Czech Republic, Estonia, Hungary, Latvia, Lithuania, Macedonia, Montenegro, Poland, Romania, Serbia, Slovakia and Slovenia.
During the forum, the participating countries agreed on several activities related to establishing stronger economic ties to better connect the 16+1 capital cities.
The representative companies signed agreements in various fields, including tourism, investment promotion, cultural exchanges, environmental protection and healthcare.
Zhang Shiliang, general manager of Shougang International Travel, a branch of China's steel giant Shougang Group in Beijing, said that CEE countries possess huge tourism resources, especially in the Balkan region, "which brings opportunities for us to develop high-end tourism there".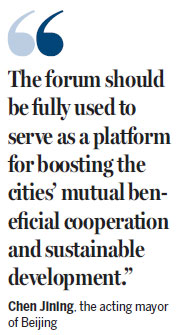 "With this platform and the national strategy to develop cooperation with these 16 countries under the Belt and Road Initiative, the tourism industry has the chance to join hands with the relevant countries," Zhang said. As one of the representatives at the forum, Shougang International Travel signed a cooperation framework agreement with a counterpart travel agency in Montenegro, acquiring a hotel in Serbia and setting up a joint venture travel agency, according to Zhang.
Ding Yongling, deputy general manager of Beijing Tongrentang Group, a traditional Chinese medicine pharmaceuticals company, said that Tongrentang has set up a TCM development hub with a hospital in Montenegro. The project aims to boost medical developments in such key areas as treatment, training, Chinese medicine planting, localized production in CEE and combining Chinese and Western medicines.
"We are accelerating efforts to increase our outbound investments, plan the overall industrial layout, create an industrial chain and establish an overseas TCM market," said Ding. In order to spread TCM culture, six Tongrentang experts offered free treatment to locals during the forum, with over 150 patients attending the event, according to Ding.
"With the 16+1 cooperation, as well as the Belt and Road Initiative, Tongrentang will further develop the overseas markets in CEE, to export our traditional medicine and increase its global influence," said Ding. In recent years, Tongrentang Group has focused its overseas business development on CEE via TCM diplomatic activities, high-end medical services, promotion of TCM-based healthy lifestyles and ideas of health preservation promotion and brands fostering, thus helping more people in overseas countries to better understand and choose TCM.
(China Daily 09/30/2017 page9)
Today's Top News
Editor's picks
Most Viewed