Deal between China Daily Website, SPB TV
A license agreement has been signed between the China Daily Website and Russia's SPB TV at the Second China-Russia New Media Forum held in Russia on Monday and Tuesday.
The agreement grants the SPB TV OTT platform, as well as via the Belt and Road application (owned by SPB TV), the international rights to the video-on-demand content in entertainment, documentary and news produced by the China Daily Website. The content will be produced in English. The monetizing of the content will be based on the sharing of profits received from advertisements.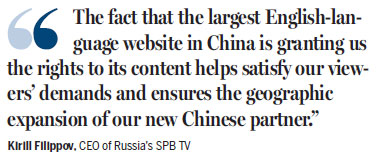 "We are looking forward to having cooperation with SPB TV," said Han Lei, editor-in-chief of China Daily Website. "Through the SPB TV platform, we hope that more Russian people will get to know China's stories."
Kirill Filippov, CEO of SPB TV, added: "We are currently witnessing the ever-increasing interest in alternative sources of news. The fact that the largest English-language website in China is granting us the rights to its content helps satisfy our viewers' demands and ensures the geographic expansion of our new Chinese partner."
SPB TV, as the largest provider of end-to-end over-the-top content, internet protocol television and mobile TV solutions in the Commonwealth of Independent States, started broadcasting content from China in 2013.
At the moment, both the OTT platform of the company and the Belt and Road app (developed exclusively for those with an interest in TV content from China) broadcast over 16 Chinese terrestrial channels and four video-on-demand channels, as well as content from Chinese media companies such as Xinhua News Agency, Shanghai Media Group, China Central Television and China Economic Network.
"Enhancing cooperation with Chinese media is one of the most important strategic development strategies for us, and our technological ability allows us to protect the content," said Filippov.

(China Daily 09/27/2017 page11)
Today's Top News
Editor's picks
Most Viewed