Railway link to sea speeds up cargoes
A new rail-to-sea logistics link connecting inland China with Southeast Asian countries opened on Monday morning as a train loaded with auto parts and fiberglass products left Chongqing's Tuanjiecun Railway Station.
The train will arrive at Qinzhou Port in the Guangxi Zhuang autonomous region, where the products will be shuttled on to Singapore and other countries.
Compared with the traditional route via the Yangtze River and Shanghai, the new one will save about 20 days. The two-way train service runs once a week.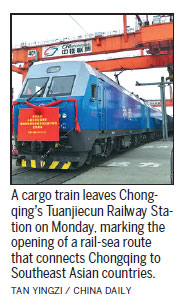 Today's Top News
Editor's picks
Most Viewed