Merkel win could pave the way
Veteran politician says Europe needs to work with China on new solutions
With Germans casting their ballots on Sunday to elect the country's new government, veteran French politician Jean-Pierre Raffarin said Chancellor Angela Merkel's expected victory will form a "perfect duo" with new French President Emmanuel Macron to deepen Europe's strategic partnership with China.
Merkel's Christian Democratic Union and its Bavarian counterpart the Christian Social Union have been leading the opinion polls, though the final results of the federal parliamentary election were still unavailable by press time.
Former European Parliament president Martin Schulz, the leader of the opposition Social Democratic Party, the oldest political party in Germany, has been Merkel's main rival.
"I think, she (Angela Merkel) will win and she is a very good friend of China. She understands why China is important for us (Europe)," Raffarin, former prime minister of France, told China Daily in an exclusive interview in Paris prior to the Sunday election.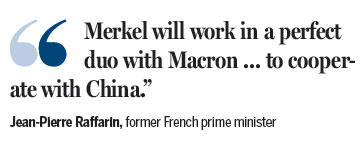 "Merkel will work in a perfect duo with Macron, who was elected as French president in May, to cooperate with China."
If Merkel wins the fourth-term election, she will outlast nearly all the Western politicians as a state leader. Since 2005, she has visited China more than 10 times.
Raffarin said Macron, who recently said he planned to visit China early next year, has also shown a great interest in deepening the traditional relationship with China.
Special envoy
Raffarin was sent to China as Macron's special envoy in May to attend the Belt and Road Initiative Forum for International Cooperation. He said Macron is keen on working with China to explore cooperation under the framework of the Belt and Road Initiative.
In recent days, President Xi Jinping had telephone conversations with Merkel and Macron respectively amid the Democratic People's Republic of Korea nuclear issue.
"We need China and of course, it's because of business, but above all, it's because of peace," said Raffarin.
"The world is dangerous, and in the history of China, you have the thinking of a balanced world. And we need that for the peace of the planet."
Raffarin said Europe, aiming to be a responsible global player, needs to work with China to provide new solutions to global problems across the Eurasian continent, and so the leaders should form a better working and personal relationship.
Raffarin said Europe's relationship with the United States has not been in good shape since President Donald Trump took office.
He urged Merkel and Macron to work together to rebuild Europe, which badly needs "change and reform". But Raffarin warned that if Europe chooses to weaken relations with China, "it will lose", while if Merkel wins the election, Europe will be in a far better position.
"If Merkel wins, we will have a stronger Europe and good partnership with China. And we need that," said Raffarin.
fujing@chinadaily.com.cn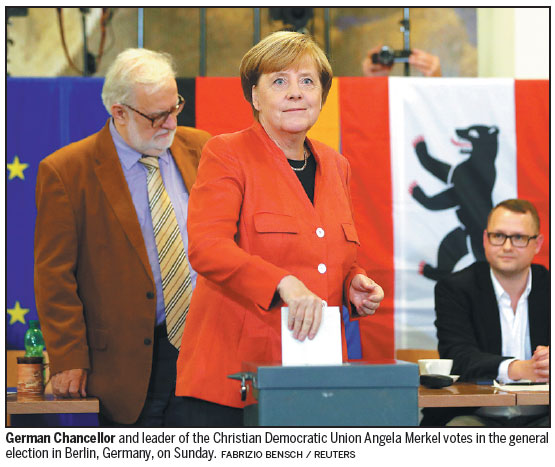 (China Daily 09/25/2017 page12)
Today's Top News
Editor's picks
Most Viewed