Xi'an innovation incubation district provides world-class support
On Sept 15, the Public Creative Space Alliance in Beilin district of Xi'an, capital of Northwest China's Shaanxi province, launched its new service platform for startups engaged in the innovation industry.
Named Qichuangbao, the platform will integrate internet technologies to provide both online and offline services for entrepreneurs with business operations in the district.
The service platform, partly developed by Xi'an Beilin University-Based Innovation Industrial District, is operated via an app on Wechat.
Gathering resources from the local government and public and private industry, the service platform provides tailored services for small and medium-sized companies.
"Entrepreneurship requires a whole supporting ecosystem. Xi'an Beilin University-Based Innovation Industrial District provides the ecosystem for our business starters. Based on that, we can communicate and work with each other," said He Zhuo, general manager of Tencent Public Space in Xi'an.
"Through this launching event, we can build up closer ties between Xi'an Beilin University-Based Innovation Industrial District and many other public spaces. 'Green channels'to provide more effective and convenient supporting services will also be cultivated," He said.
The Beilin district government organized the launching ceremony. A total of 39 local companies, public spaces initiators, service organizations and teams based in Beilin district participated in the event.
The district, although being the smallest in Xi'an, has gathered the most high-profile resources, which are a significant boost for the development of the innovation industry.
Renowned Chinese universities are involved in the area's development, including Xi'an Jiaotong University, Northwestern Polytechnical University and Northwest University.
The district has gathered a total of 131 research institutions, eight national key laboratories, six national engineering technology centers, 113 provincial-level key laboratories and engineering centers, which have attracted more than 30,000 researchers to get involved.
Xi'an Beilin University-Based Innovation Industrial District was initiated in January 2013 amid Xi'an's overall plan to build itself into a national modern service industry pioneer city.
"In the past four years, we worked out an efficient model to incubate the enterprises," said Chen Xiaoling, deputy chief of the managing committee of the Xi'an Beilin University-Based Innovation Industrial District.
"Based on the traditional incubating model, we built up the link between online and offline incubating systems, providing companies with an integrated chain of financial funds, innovation and industry," Chen said.
Hou Xuedong, deputy head of Beilin district, said: "With technology and innovation as guides, we will further gather new production factors, such as knowledge, technology, information and data, to develop the new economy and cultivate new energy."
The Public Creative Space Alliance launching ceremony took place in Xi'an Innovation Design Center, a 24-floor building with a total area of 43,000 square meters.
The innovation design center was launched in July 2016 in Beilin district, aiming to boost public creativity along the Silk Road.
In an effort to encourage the creation of startups and create more jobs in the innovation industry, the center was built up with all the necessities for businesses to operate there, including meeting rooms, roadshow halls and convention facilities.
Besides some local associations, companies including Huawei, Tencent and Microsoft have set up research and development operations at the center.
"The future will see innovation become the main trend of the manufacturing industry, and design will play a more and more important role. Individualized demand will become more prevalent and the mass production model will gradually be replaced by customization-focused ones," said Lu Bingheng, an academician of the China Academy of Engineering. "Xi'an, as a major city in Northwest China, is playing a key role in manufacturing, economic development and innovative design. We can spread our perspective of innovation, especially in the aspects of information and networking to more countries involved in the Belt and Road," Lu said.
Lu Yongxiang, former vice-chairman of the Standing Committee of the National People's Congress, said Xi'an Innovation Design Center's development is surprisingly impressive. "Innovative design has strategic significance in enhancing China's competitiveness on the global stage.
"It can elevate China's position in the global value chain, support technology development and lead innovation," said Lu.
Lu suggested Xi'an could share its experience in innovation perspectives and build the innovation design center into a more open platform to gather global resources and serve people worldwide. By the end of August, Xi'an had built a total of 316 public spaces with a total area of 9.89 million sq m.
The number of technology business incubators was 42, covering an area of 1.37 million sq m.
liyou@chinadaily.com.cn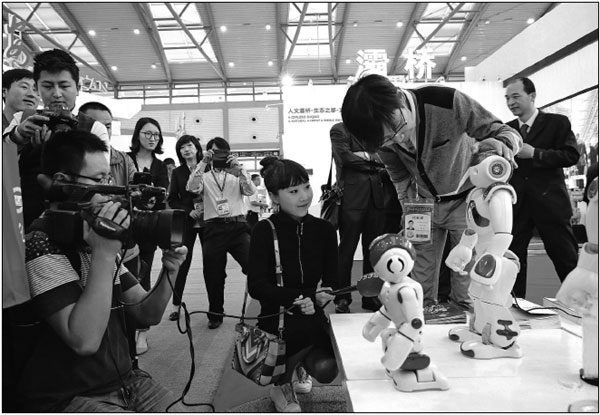 Intelligent robots designed by the pioneer team of the Xi'an Beilin University-Based Innovation Industrial District catch the eyes of visitors at an international expo in Xi'an, Shaanxi province.Photos Provided To China Daily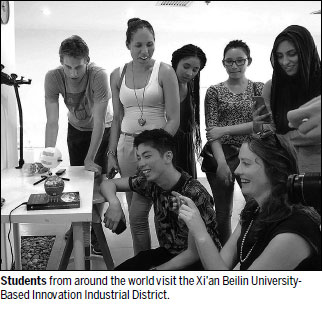 (China Daily 09/21/2017 page5)
Today's Top News
Editor's picks
Most Viewed