China shines with FDI in influential World Investment Report
The new Chinese edition of the World Investment Report 2017 awarded some top marks to China.
That's according to Astrit Sulstarova, chief of Investment Trends and Data Section, Investment and Enterprise Division of the United Nations Conference on Trade and Development, who explained the findings to a news conference.
The key report was released at the China International Fair for Investment and Trade, held from Sept 18-21 in Xiamen, Fujian province.
Sulstarova said the report examined recent trends in the flows and policies of foreign direct investments, or FDI.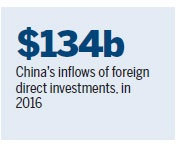 He revealed that global FDI inflows decreased by 2 percent to $1.75 trillion last year, after a strong rise in 2015. That happened amid "weak economic growth and significant policy risks perceived by multinational enterprises".
But even so, Sulstarova anticipated that projections for 2017 were "cautiously optimistic", and he forecast global inflows in 2017 would increase to almost $1.8 trillion, continuing to $1.85 trillion in 2018.
As for China, the report revealed that the country "attracted foreign investment at a high level and of continuously improved quality" in 2016.
"China is the world's third largest FDI recipient country," he said.
China's FDI inflows reached $134 billion, down 1 percent over the previous year, but still at a near record high level.
"More importantly, China's foreign investment structure and quality continue to optimize," the report said.
"FDI flows to non-financial services industries continued to grow, while manufacturing FDI further turned to the high-end. FDI has become an important driving force for China's industrial upgrading," it added.
On the other hand, Sulstarova revealed that China's foreign investment policy environment is currently in an important transitional period.
"It is transitioning from a traditional foreign investment regulatory system to a more open system based on a negative list, with the policy focus transitioning from preferential treatments to foreign investment facilitation," the expert said.
He also said that the investment environment is constantly improving.
"Measures were adopted to promote fair competition between foreign and domestic companies. These measures all contributed to a better investment environment and continued growth of foreign investment," the report said.
While the United States remained the world's largest outward-investing country in 2016, China became the second largest foreign investor in the world.
China's outward FDI soared to 44 percent to $183 billion in 2016, 36 percent higher than its inward FDI, the report said.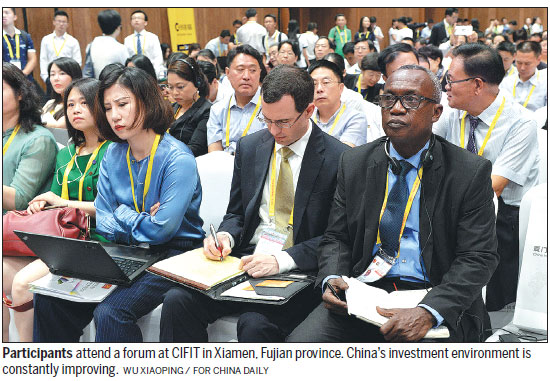 (China Daily 09/20/2017 page12)
Today's Top News
Editor's picks
Most Viewed