Rich Natural Resources Put Northern Hebei On Scenic Map
Host Qinhuangdao promotes its transformation, restructuring and balanced development
With the Second Conference of Hebei Tourism Industrial Development around the corner, the host city Qinhuangdao is set to make full use of the opportunity to boost its tourism industry, local officials said.
The event is scheduled to be held from Sept 17 to 19 and is expected to attract about 1,000 participants, including representatives of the World Tourism Organization and other international groups. It will help to promote the city's tourism transformation, industrial restructuring and balanced development of urban and rural areas, they said.
With a great number of natural wonders and historical heritage sites, Qinhuangdao in Hebei province in North China has a wide range of tourism resources, including 162.7 kilometers of coastline and 223 km of the Great Wall.
Dubbed as the backyard of neighboring Beijing and Tianjin, the nearest coastal city to the country's capital receives more than 42 million tourists from China and abroad annually.
Most of them opt for seasonal visits to the coastal city for an escape from the summer heat.
To turn it into a hot tourist destination throughout the year, the city government has put an emphasis on developing new types of tourism, such as coastal resorts, marine entertainment, healthcare travel, mountain visits, cultural experiences and wine-themed leisure activities.
This year, 3.25 billion yuan ($497.5 million) has been spent on 18 key scenic sites in the city for their renovation and improvement, injecting new vigor into the old locales.
Strategic investors, including Overseas Chinese Town Group, a tourism property developer and operator, have signed deals with the city to build 23 new tourism projects.
They include a spring resort on an island, a coastal sand sculpture park, a grape-themed town and a wine-themed healthcare center.
The government has poured approximately 3 billion yuan into improving the infrastructure, while nearly 30 billion yuan in investments from other sectors has gone into local tourism.
And a 75-km-long road named after the Great Wall, meandering through the mountainous regions, and another 24-km-long highway began operation in May.
They link a series of scenic spots in six townships and scores of villages, providing tourists with a picturesque sightseeing corridor and facilitating the integrated development of rural and urban areas.
Another major attraction featuring the rural-urban connection and diverse highlights is a sightseeing rail tour.
It starts from a century-old wharf on the sea and runs into the Banchangyu scenic site, one of the top 10 rural tourism destinations in Qinhuangdao.
Along the 40-km-long route are sea and mountain landscapes, the Great Wall, forests, a sea of flowers, geological relics, and ancient villages and towns.
The rail tour is an exemplary "all-for-one tourism" case, where different sectors and various resources are involved to meet tourists' needs, local officials said.
To enable local people to benefit from tourism, the Qinhuangdao government stresses ecological recovery and protection.
A total of 3.1 million trees were planted, 150 km of new river networks were constructed and 23 mine pits were covered.
With tourism as a pillar of local economy, the city is seeking an eco-friendly, sustainable growth. Developing rural tourism and building themed town projects also help to extend the value chain, expand industrial clusters and relieve poverty, the officials said.
Cui Lisheng contributed to this story.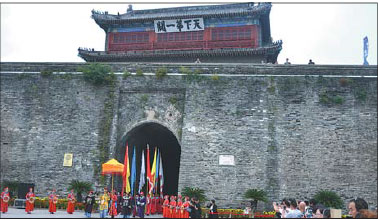 Shanhaiguan Pass in Qinhuangdao is a key section of the Great Wall.Photos Provided To China Daily

(China Daily 09/15/2017 page15)
Today's Top News
Editor's picks
Most Viewed