French PM shrugs off labor protests
PARIS - French Prime Minister Edouard Philippe has shrugged off nationwide protests against planned reforms to France's strict labor regulations, saying on Wednesday he was "listening" but would nonetheless press ahead with the bill.
Thousands of hard-left trade unionists marched through French cities on Tuesday to protest against President Emmanuel Macron's labor law reforms, although turnout appeared lower than at demonstrations in previous years.
After weeks of negotiations, the government last month set out measures including a cap on payouts for dismissals judged unfair, and greater freedom for companies to hire and fire.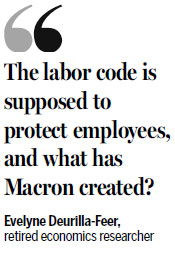 Philippe said that while he was paying close attention to the protests, the election this year had nevertheless shown a willingness by French citizens to back the reforms.
"I am listening and I am paying attention. But let me allow myself to state that the French, when they vote, also have a right to be treated with respect. And the reform that we are putting in place, it was announced by the President at the time of the election," he told France 2 television.
Macron, a 39-year-old former banker, inadvertently fueled worker anger when he declared on a trip to Athens that he "would cede no ground to slackers, cynics and hard-liners".
On Tuesday, about 4,000 strikes and 180 protests were called by France's biggest trade union, the CGT, with rail workers, students and civil servants urged to join the demonstrations against changes to the country's rigid labor laws.
France's Interior Ministry said 223,000 people joined marches nationwide, with 13 arrests made. The CGT, for its part, put the total at 400,000.
"It's a first one and it looks like it's a success," the head of the CGT, Philippe Martinez, told reporters in Paris.
But disruption to rail networks, air traffic control and public services was limited.
"It doesn't look like turnout is very high today," political analyst Jerome Sainte-Marie from the polling group PollingVox said, adding that Macron had the upper hand because the reforms were part of his election manifesto.
Retired economics researcher Evelyne Deurilla-Feer came dressed as a giant box of Kleenex, in protest at reforms she said would result in workers being tossed away like used tissues.
"The labor code is supposed to protect employees, and what has Macron created? A code that protects entrepreneurs and businesses. It's a real scandal," she said.
Reuters - AFP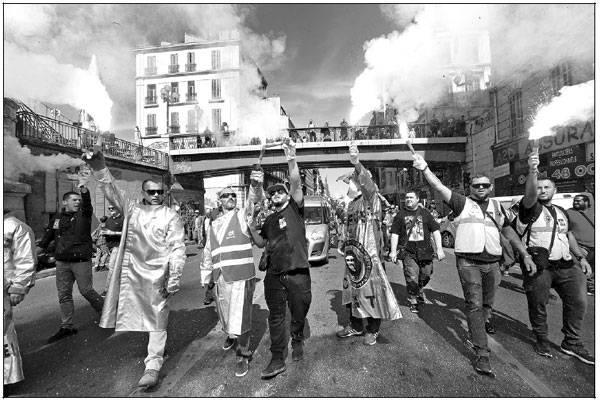 Steelworkers burn flares during a nationwide day of protest against the government's labor reforms, in Marseille, France, on Tuesday.Claude Paris / Agence France-presse
(China Daily 09/14/2017 page11)
Today's Top News
Editor's picks
Most Viewed