Singapore gets female president
SINGAPORE - Halimah Yacob, a former speaker of parliament, was declared elected as Singapore's first woman president on Wednesday, after the returning officer announced she was the sole candidate to qualify for the contest.
Aiming to strengthen a sense of inclusivity in the multicultural city-state, Singapore had decreed the presidency, a largely ceremonial post, would be reserved for candidates from the minority Malay community this time.
"Although this is a reserved election, I'm not a reserved president," Halimah said in a speech at the elections department office. "I'm a president for everyone."
Halimah's experience as house speaker automatically qualified her under the nomination rules.
Of the four other applicants, two were not Malays and two were not given certificates of eligibility, the elections department said earlier this week.
The last Malay to hold the presidency was Yusof Ishak.
Yusof was president between 1965 and 1970, the first years of Singapore's independence following a short-lived union with Malaysia.
The separation of Singapore from Malaysia gave ethnic Malays a clear majority in Malaysia, while ethnic Chinese formed the majority in independent Singapore.
The uncontested election drew mixed reactions from observers, with some welcoming Halimah as the country's first woman president and the first Malay head of state in 47 years.
Institute of Policy Studies deputy director Gillian Koh said: "Madam Halimah is a double minority - not only is she a Malay-Muslim individual, but a female."
But Koh felt "the statement of our acceptance of diversity would have been all the more powerful if there had been an open contest".
Professor Bilveer Singh of the National University of Singapore questioned the value of having a contest for a contest's sake: "Being elected through a walkover does not undermine or delegitimize the winner."
Singapore's head of state has limited powers, including vetoing senior official appointments, but an establishment figure has always held the role and there are rarely tensions with the government.
AFP - Reuters - the Straits Times/ANN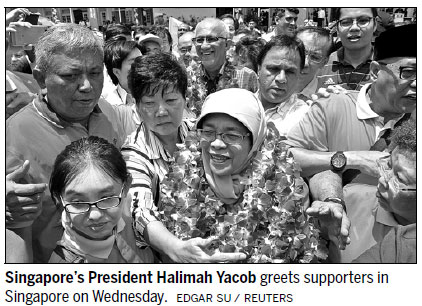 (China Daily 09/14/2017 page11)
Today's Top News
Editor's picks
Most Viewed