Couple marries after 50 years apart
ROCHESTER, New York - He was an Elvis Presley-loving sailor who spun records for the US Navy radio station on the Caribbean base where he was stationed. She was a local woman whose brother worked at the facility.
More than a half century after the brother introduced Jennifer Meyerink and Stephen Walbert, the long-separated couple's love was finally sealed in Rochester, New York, where they were married on Monday in the hospital where Walbert has been undergoing treatment for leukemia.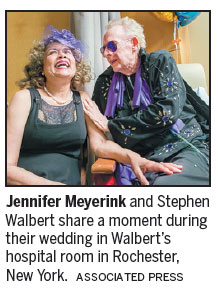 "That eternal flame turned into a bonfire, and it's still roaring today," the 73-year-old Walbert said as relatives and staff at Rochester General Hospital crammed into his room to view the marriage ceremony officiated by the city clerk.

Today's Top News
Editor's picks
Most Viewed