DPRK seeks security the wrong way
The Democratic People's Republic of Korea vowed on Wednesday to accelerate its weapons' program in a tit-for-tat reaction to the "evil" sanctions imposed by the UN Security Council on Monday. The DPRK's response is a step in the wrong direction and will further isolate it from the international community.
The Security Council sanctions against the DPRK in response to its sixth and strongest nuclear test on Sept 3 include a ban on the country's textile exports and restrictions on its crude oil imports.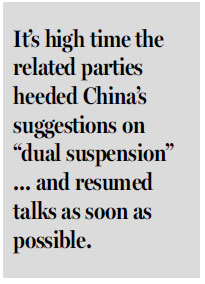 Today's Top News
Editor's picks
Most Viewed