Area's growth tops world rankings, with maritime sector a main driving force
In recent years, China has played an active role in advancing the 21st Century Maritime Silk Road by promoting cooperation with East Asian countries in the marine economy.
The country has signed a series of agreements with seven East Asian countries including Japan, South Korea and the Philippines.
China has worked on many international projects, such as Myanmar's Kyaukpyu port integrated development and the Malaysia-China Kuantan Industrial Park.
It has also boosted cultural communication and mutual trust with East Asian countries by organizing various seminars and activities.
Last year, the economic growth rate of East Asia topped the global rankings.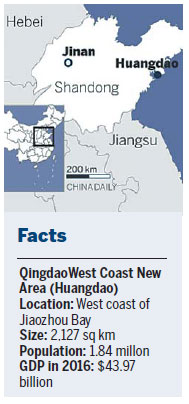 Statistics from the International Monetary Fund show that in July 2017, East Asia, which has 30 percent of the world's population, created 28 percent of the world's GDP.
The IMF's forecast for 2017 GDP growth in the United States and Europe was around 1.6 percent and 1.8 percent respectively, while the figure for China and ASEAN was 6.7 percent and 4.9 percent, respectively.
The East Asian marine economy is developing at a fast pace, with nearly 40 percent of the world's marine trade coming from the region.
Among the 30 largest container ports in the world, more than 20 are located in the Asia-Pacific region. China, Japan, South Korea and the Philippines are the world's four largest shipbuilding countries.
Local fishery production accounted for nearly 70 percent of the world's total yield. Cooperation between China and East Asian countries has entered into "a diamond decade".
China, Japan and South Korea have been working on marine science and technology, environmental protection, fisheries and maritime security, and the establishment of oceanographic stations and marine waste control.
In the future, East Asian countries should build up a community of culture, security and governance to strive for mutual benefits and a win-win solution for marine issues.
I think that the blue economic concept should be injected into the multilateral cooperation to build a systematic mechanism. As a key hub in the country's Belt and Road Initiative, Qingdao in Shandong province is revitalizing the marine port economy by promoting communication among people of all countries.
We should make good use of opportunities under the 21st Century Maritime Silk Road, including promoting the marine infrastructure construction, expanding East Asian ports and the improvement of the marine cargo efficiency.
By building some information sharing platforms such as marine ecological monitor, weather forecast and shipping information, we can deepen marine public service cooperation.
To achieve the goal of "service, security, smart, and sustainablity", we need to deal with marine biodiversity research, pollution control and climate change in a proper way.
Ji Zhiye is the president of the China Institutes of Contemporary International Relations.

Qingdao West Coast New Area plays a vital part in boosting China's cooperation with East Asia countries in the marine sector.Ouyang Geyan / For China Daily
(China Daily 09/14/2017 page7)
Today's Top News
Editor's picks
Most Viewed