Robotics company shows off expertise at China-ASEAN Expo
Techcode SME Services Co Ltd is showcasing its technological expertise and latest products at the ongoing 14th China-ASEAN Expo in Nanning, capital of the Guangxi Zhuang autonomous region.
The expo started on Tuesday and will last through Friday. The annual event is designed to increase exchanges between China and the members of the Association of Southeast Asian Nations.
Techcode's exhibition stand has attracted intense attention from high-ranking officials from China and ASEAN members.
Its eye-catching exhibits include a robot, developed by Techcode in cooperation with Flyingwings, an intelligent robotics company.
The robot can not only provide new residential community solutions for property services, smart homes and intelligent security, but also internet information, community management services and nursing services at home.
Huang Haiyan, CEO of Techcode, briefed the officials on the company's core strategies, global expansion and innovations at the expo.
Huang also shared the information about the company's innovation network at the Forum on China-ASEAN Technology Transfer and Collaborative Innovation, a key part of the expo, on Wednesday.
One of the pioneers in China's business incubation industry, Techcode has built a global network for innovation and business incubation since it was established three years ago.
The company partnered with China Fortune Land Development Co, a developer and operator of new industry cities, to create industry chains, ranging from business incubation to industrial parks and towns, providing professional services to global startups and contributing to regional innovative development.
To date, Techcode has set up 30 professional business incubators and accelerators in 22 cities in seven countries, including California in the United States, Tel Aviv in Israel, Seoul in South Korea and Berlin in Germany.
The company has worked with more than 250 large companies in the Internet Plus, intelligent hardware, biopharmaceuticals and internet finance sectors.
The global incubation network can leverage resources for innovation worldwide and offer services ranging over the entire value chain to budding entrepreneurs, Techcode's executives said.
By bringing in international innovative projects and experts on innovation, the network also helps to promote regional innovation development and industrial upgrade, they said.
Together with local universities and companies, Techcode founded a global institute of intelligent connected vehicles in Gu'an, Hebei province, on Sept 9 to help the county to develop into an intelligent connected auto industrial cluster.
The institute will integrate global professional wisdom and industrial research to promote the development of component technology and research into industry standards.
It also aims to develop more products and contribute to the intelligent connected vehicle industry and the construction of innovative industry clusters.
"Techcode hopes to build a dynamic and systematic innovative industrial cluster with cooperative partners in the intelligent connected vehicles industry," Huang said.
caoyingying@chinadaily.com.cn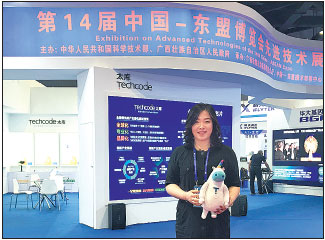 Huang Haiyan, CEO of Techcode SME Services Co Ltd, participates in the ongoing China-ASEAN Expo in Nanning, the Guangxi Zhuang autonomous region.Provided To China Daily
(China Daily 09/14/2017 page24)
Today's Top News
Editor's picks
Most Viewed