Sharapova sizes up Serena rivalry in new autobiography
LOS ANGELES - Maria Sharapova muses on her long, lopsided rivalry with Serena Williams in a new autobiography released on Tuesday and how she believes a locker-room moment fueled the American's drive to dominate her.
The Russian-born Sharapova was 17 when she defeated Williams in the 2004 Wimbledon final. Rather than proving the start of a long, close rivalry, it was one of just two victories Sharapova can claim against the US great, who has beaten her 19 times.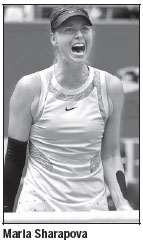 In her new book, Unstoppable: My Life So Far, Sharapova says it was not only her victory, but the fact that she overheard Williams weeping afterwards in the locker room that ensured the American would always find a way to elevate her game in their future contests.

Today's Top News
Editor's picks
Most Viewed